What is it about military watches that inspires such passion?
Is it the deep history and brutal conflict these little machines have endured? Or maybe it's the incredible amount of human ingenuity that goes into making such a durable and reliable tool?
Whatever it is, our love for military time-pieces run deep, and to understand modern tool watches it's important to look closely at the pioneering references that have informed the style, function, and history of the watches we wear everyday.
In this article we'll explore some of the most iconic military wrist-watches of World War II, how they were used, and their inspiration for modern day watches, looking at important military pieces on both sides of the Allied and Axis forces.
WW2 Military Watch Visual Reference Guide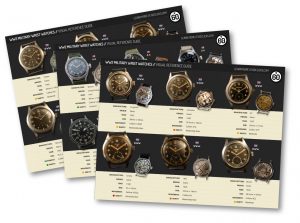 A handy three-page visual reference guide containing photos of dials and movements for 16 popular and collectible vintage WW2 watches from the United States, Britain, Germany and Japan.
 The American A-11
The A-11 Military Spec was one of the most commonly issued watches types supplied to Allied forces during WWII. The A-11 is not a particular model per-se, but instead a production standard that was implemented by the major American watch manufacturers during the period in several different variations.
Those companies were called Elgin, Bulova, and Waltham, and millions of their timepieces were issues to Allied Air Force and Army personnel during the start of the war. These watches were not only highly valued personal items for soldiers, pilots, sailors, engineers, and officers, but quickly become crucial equipment to complete mission critical tasks.
Needing to survive rough conditions on the battlefield, the A-11 military spec required these pieces to be produced to rigorous standards: dust and waterproof casing, extreme temperature resistance, and a robust movements with accuracy requirements of +/- 30 seconds per day and a 30 – 56 hour power reserve. Military watches produced today are still held to this same high standard of production.
The American A-11 is widely referenced as the "watch that won the war", enabling Allied forces to systematically drive back the German troops in Europe both in the air and on the ground with precision and accuracy.
For collectors, these types of watches are fairly common, and decent examples can typically be acquired online for around $500 to $1000 dollars. Just be weary of purchasing watches based on photographs only, many of these watches have had parts replaced on the field and may not be completely original.
Modern Homages
  The German B-Uhr
The B-Uhr (short for Beobachtungsuhr, or Observer) is another iconic military watch style that was supplied to German Luftwaffe during World War II.
Like the American-made A-11, the B-Uhr was manufactured by several cooperating German and Swiss companies, namely: IWC, ALS, Wempe, Lacher & Co (Laco), and Walter Storz (Stowa).
Available in two primary configurations (A and B), the B-dial features a shorter hour hand aligned with the inner circle of the dial and a unique triangular marker at 12. The B-Uhr was an essential tool for Luftwaffe navigators, and it's functional design provides a historical reference for many modern pilot watches.
Regulated to the highest of chronometer standards, B-Uhr watches were precisely synchronized using radio signals from the German Naval Observatory. These tools had to be deadly accurate in order to successfully intercept targets on the field.
At 55mm, these were huge watches, but they served a purpose. Along with an extended double-riveted leather strap, the B-Uhr was designed to be worn over flight jackets, and it's massive size provided the navigator with unambiguous legibility.
Additionally, mechanical movements were housed in anti-magnetic iron cages to prevent electrical interference from flight equipment and the oversized onion-shaped crowns allowed smooth operation while wearing flight gloves.
Although complicit in unimaginable human suffering, the B-Uhr design is one of the most important tool watch designs in watch history. If you can't find an original vintage version of this watch, modern reproductions are plentiful, with some modern B-Uhrs still being produced by the companies who produced the originals (namely, Stowa and Laco).
Modern Homages
 The Japanese Seikosha "Kamikaze" Watch
| | |
| --- | --- |
| Size: | 48.5mm |
| Date Produced: | 1940 – 1945 |
| Forces Supplied: | Japanese Air Force |
| Manufacturers: | Seikosha ("Seiko") |
As part of the Axis forces, the Japanese played an important role in the resistance during WWII, culminating in the horrific destruction of Hiroshima and Nagasaki by the American-dropped atomic bombs in 1945.
Prior to the Japanese surrender in 1945, the Japanese Navy was famously known for using "Kamikazes" – suicidal pilots who crashed directly into U.S. battleships – a last ditch effort to slow down the powerful U.S. Navy advance.
This rare watch, the Seikosha "Kamikaze", was on the wrist of these imperial pilots as they made their last descent.
The name of this watch may sound familiar, and that's because Seikosha was a branch of the popular watch company Seiko that has produced watches and clocks for military and civilians since the 19th century.
Like the German B-Uhr, the oversized case and crown were designed to be worn over flight equipment and operated with thick leather gloves. This Japanese pilot watch does have a unique feature though: a turntable bezel, allowing for marking of elapsed time during missions.
Because of the nature of how these pieces were used, finding one in decent condition is rare. Not many were made and most of them were destroyed. Some museum quality pieces that were salvaged from wreckages do exist, but can fetch upwards of $20k at auction.
 The British W.W.W.
| | |
| --- | --- |
| Size: | 32 – 37 mm |
| Date Produced: | 1940 – 1949 |
| Forces Supplied: | The British Royal Airforce, The British Army |
| Manufacturers: | Buren, Cyma, Eterna, Grana, Jeager-LeCoultre, Lemania, Longines, IWC, Omega, Record, Timor and Vertex |
| Buy Online: | Find Authentic Originals on Ebay |
Great Britain declared war on Nazi Germany in 1939 after the famous Blitzkrieg invasion of Poland devastated Polish forces.
Needing a massive supply of wrist watches for it's embarking armies, the United Kingdom developed a production standard called "W.W.W." (Wrist. Watch. Waterproof).
With British watchmakers focused on building naval and aviation instruments, the British Ministry of Defense turned to neutral Swiss watchmakers to fulfill the massive need. In response to this request, a group of 12 companies collectively known as the "Dirty Dozen" all rallied to produce an implementation of the spec: Buren, Cyma, Eterna, Grana, Jeager-LeCoultre, Lemania, Longines, IWC, Omega, Record, Timor and Vertex.
The specs may seem familiar by now: Waterproof, luminous hands, and chronometer grade movements, durable timepieces that can standup to the rigor of military life. Much like the A-11 and the B-Uhr, these were no-nonsense watches built for a very specific purposes and every soldier had one.
Unfortunately for collectors, many of these watches were destroyed in the early 70's for fear of radioactive Radium-226, an element found in the luminescent material on the dials of these watches.
Hundreds of thousands of these watches were produced, but the Grana is by far the most elusive piece. With only 1000 actually produced, it's often the missing link for those completionists looking to obtain all 12.
  The Glashütte Chronograph
| | |
| --- | --- |
| Size: | 39mm |
| Date Produced: | 1940 – 1949 |
| Forces Supplied: | The German Luftwaffe |
| Manufacturers: | Tutima Glashutte, Hanhart |
An often overlooked watch developed secretly in collaboration between the German government and Hanhart/Tutima, this Flyback Chronograph is one of the most historically important chronographs in all military history.
Used in aerial combat during the war, the German pilots were the only military combatants to have actual chronograph timing capabilities on their wrist, and the Flyback mechanism was an important technical achievement (and the first of it's kind).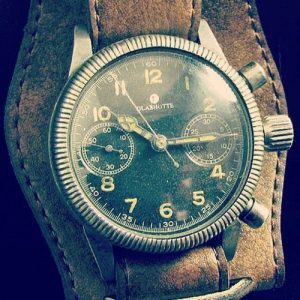 This piece has some serious tool watch specs: Antimagnetic and waterproof case, shatterproof domed acrylic crystal, rotating bezel, radioactive lume, and the famous Flyback chronograph mechanism, which allows you to reset the chronograph while its running.
After the war was over and Glashutte lay in ruin, Russian troops dismantled the manufacture and moved all equipment and parts to Moscow as part of reparations. Russian versions of this watch using the same Calibre 59 can be found from this post-war period, and can be highly collectible as well.
Modern reproductions: Hanhart Pioneer, Tutima Grand Flieger Classic Chronograph 6402
---
Today, military time-pieces have made quite a comeback. What was once only desired by hardcore military collectors can now be found at JCrew and purchased from "luxury" watch brands (for a premium, of course). As fans and collectors of tool watches, looking at historic military timepieces begins to connect the dots of the modern tool watch landscape.
Luckily, we can enjoy these watches today without risking our life and limb, while appreciating those that did for us.
---
---