A Brief History of Tutima
Tutima is a lesser-known German tool-watch brand, with a rich military history of producing pilot chronographs for German Air Forces during the second world war.
Rising from the ashes of the war-ravaged Glashütte watchmaking industry, Tutima is well-known for it's pioneering efforts in developing the first German two-pusher flyback chronograph movement, known simply as the Calibre 59. By the end of WWII, Tutima had produced roughly 30,000 Flieger Chronographs with this movement, now highly prized by collectors of military history.
After the destruction of the Glashütte watch-making factories by Russian forces post-WWII, all of Tutima's parts and machinery were relocated to Moscow as part of war reparations. In fact, Russian versions of the famous Tutima Flieger Chronograph made from remnants of the original stock parts can still be found today.
After the reunification of East and West Germany in the early 1990s, Tutima returned to Glashütte to investigate the viability of returning the company to it's birthplace. Six years later, Tutima finally returned to Glashütte and resumed full operations in 2011.
Today, Tutima produces a wide variety of chronograph, pilot and dress watches with a keen eye towards the rich tradition of German and military watch-making history it has established since 1927.
In this review, we're going to explore the discontinued Tutima Pacific 670, a small and compact dive watch produced by Tutima for a few years around 2010. Although since replaced by the larger 43mm Pacific 677, the Pacific 670 makes for a solid choice for fans of smaller military-inspired dive watches that can be had for well under $1000.
On the Design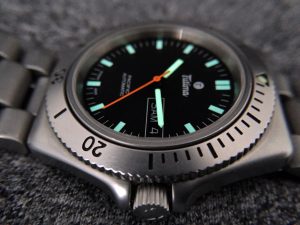 The Tutima Pacific 670 is one of the slimmest dive watches I've yet come across. The 40mm case wears even smaller due to it's "hidden lug" design, and it's thin bezel and flat crystal (<12mm) make for an extremely compact profile on the wrist.
The sandblasted satin finish is complimented by the all-steel bezel and matte black dial. The simplistic rectangular markings evoke the utilitarian military influence of it's classic M2 chronograph, and the orange seconds-hand adds a nice bit of color to an otherwise monochrome facade. The day/date placement at 3 o'clock makes this an excellent choice for an everyday sports watch.
The bracelet is extremely unique, with it's chunky sandblasted links that taper at the buckle giving some bulk to an otherwise slim profile. It's rugged and comfortable, and complements the overall aesthetic of the watch. The clasp itself contains a diver's extension and four micro-adjustments, although this watch practically begs to be worn on a NATO strap.
One downside to the slim bezel profile, it's exceedingly difficult to grip, especially with wet fingers. I wouldn't want to dive with this watch if my life depended on it, but it's 200 meter water-resistance and screw-down crown make it an excellent choice for almost all other water related activities.
The Movement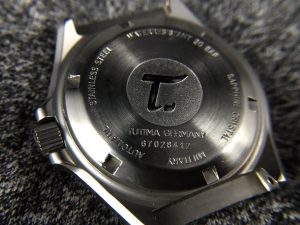 The movement is a standard Elabore grade ETA 2836-2, essentially the day/date version of the ubiquitous ETA 2824. It has hacking and hand-winding capabilities, and the quick-set on the German/English date wheel is responsive and easy to use. There's not much else to say about the movement, it's reliable and well-tested, and mostly what you would expect for an automatic watch in this price range.
It's worth noting that the higher-end watches from Tutima are now produced with in-house movements, and examples of Tutima's in-house movement production capabilities from the wartime era can now fetch upwards of $10,000. For this price-range though, it's hard to beat the ETA module. While it's not particularly original or interesting, it will save you money on maintenance in the long run and prove to be reliable for many decades.
Other Watches to Consider
The Pacific 670 is the smallest incarnation of the Tutima dive watch, and if you're a fan of the design but not the size you'd be smart to evaluate the 43mm Pacific 677 as well. Apart from being larger, it's also available in a few different configurations: including a blacked-out PVD finish and a dial with arabic numerals.
Another Tutima dive watch to consider would be the DI-300. Available in black, orange, and yellow, the DI-300 is similar in styling to the Pacific, but has a light-weight Titanium finish to go with it's upgraded 300 meter water-resistance. These seem to be a bit easier to find than the Pacific, but carries a slightly higher price tag as well.
Conclusion
Although not well-known for it's production of Dive Watches, the Tutima Pacific is a high-quality piece from a historic and well-respected brand. If you're looking to get into German watch-collecting, or just like the minimalist aesthetic of the German military style, the Pacific may be a great way to get started. At around $600 on the secondary market, the Tutima Pacific is a downright bargain for an automatic dive watch with such a rich and interesting military history.
---
---
---
---