Introduction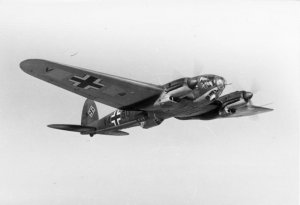 The German 'Flieger' style watch is one of the most recognizable military-inspired designs of the modern era. Originally produced in the 1940's exclusively for the German Air Force, it was designed to aid pilots and navigators on mission-critical tasks miles above the European theatre of World War II.
Produced back then by a handful of Swiss and German companies (ALS, Laco, Stowa, Wempe, and IWC to be specific), the German Flieger still enjoys modern popularity, with new models in production by many of the same companies that were operational during the mid-century. There is no doubt that the Flieger has cemented itself as an important milestone in horology, despite it's connection with such a dark and nefarious part of human history.
Now under the leadership of Jörg Schauer, Stowa has built a business focused on exceptionally well-made timepieces that pay homage to the company's own unique history. Like many of the German watch companies we feature here, Stowa's catalog is well-finished, with remarkable attention to detail, and positioned as a relative value when compared to their Swiss counterparts. Amongst Stowa's most popular models – Stowa's line of Flieger inspired watches include over a dozen variations, with multiple case sizes and dial configurations, expressing the classic form of the landmark original in several ways.
Today we'll be taking a closer look at the Stowa Flieger Klassik 40 Baumuster "Observation Watch" – a stark homage to the German B-Uhr pilot's watch that has become an icon for aviation watch enthusiasts worldwide.
History of the B-Uhr
During the initial production years, there were two general styles of German Flieger being manufactured, known simply as Type-A and Type-B.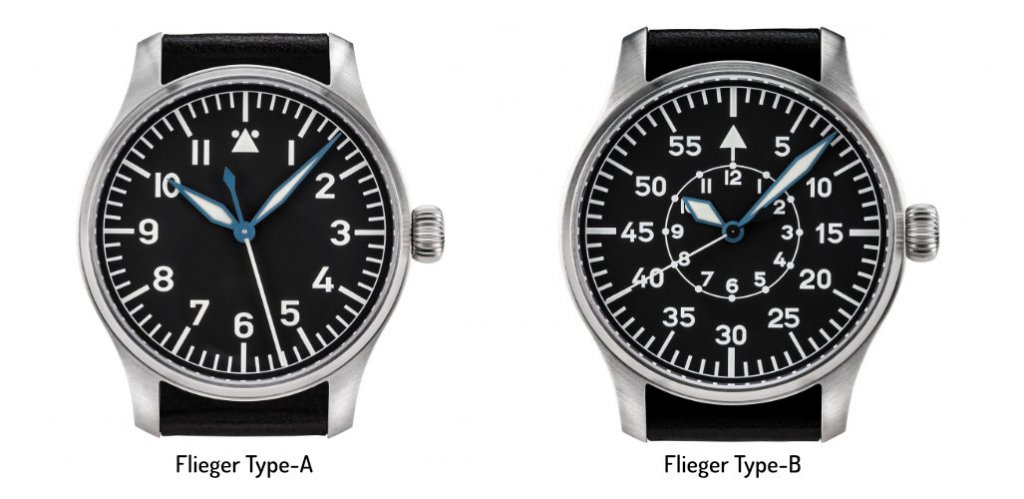 The Type-A watch had a much simpler face, with plain arabic numerals around the dial and a set of bright, triangular shaped hands to indicate the time. Type-B's were a bit more complicated with an inner and outer chapter ring, to track hours and minutes respectively. The Type-B had a small hour hand as well that tracks against the inner ring. The white triangle at 12, a feature designed to aid in orientation (and potentially for use as a solar compass), is also featured prominently on both styles. The Type-A was produced first between 1940 and 1941, with the B variation coming later, beginning production in January of 1942.
The original German pilot watches developed for WW2 were massive, measuring around 55mm in case diameter. Long leather straps allowed the watch to be secured over flight jackets, and the huge oversized "onion-crown" could easily be operated with a pair of thick leather gloves in cold, high-altitude environments. These watches were so huge, they were actually fitted with standard pocket watch movements. These movements were encapsulated in an iron core to prevent magnetization by the surrounding flight equipment. On top of all of that, the movements were regulated and certified as chronometer grade, and exhibited incredible accuracy in the field as they were periodically synchronized with German Naval Observatory signals. The accuracy of these watches could mean the different between life and death for both soldiers and civilians alike.
Since the watch design itself is based off of a military specification, no single watch company can lay claim to it. It's a classic design that has had rippling effects on the entire industry. Outside of straight homages, it's influence can still be seen in everything from the Sinn 556 to the Seiko SNK809, not to mention the legions of cheap knock-offs and Kickstarter brands that imitate it's simple lines.
Aside from the MK 11 watches created for the British Royal Air Force by IWC (amongst others), the German Flieger might be one of the most influential pilot watch designs in our current history.
See also: A Brief Guide to The Iconic Watches of WWII
Thoughts on the Design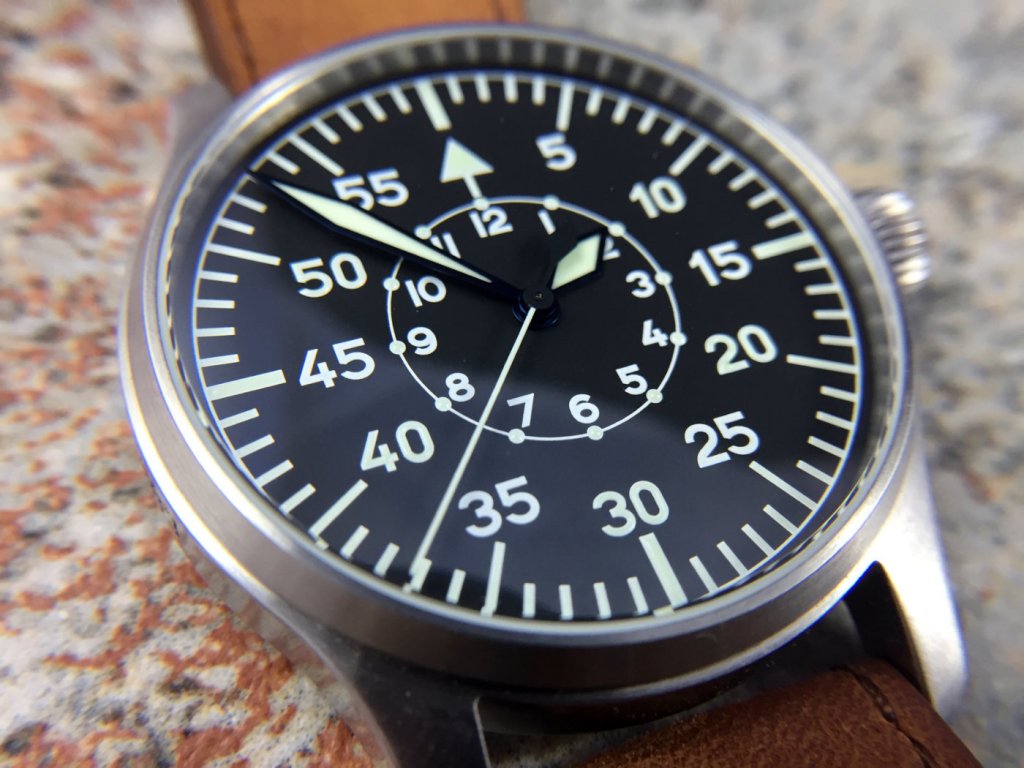 The Stowa Flieger Klassik Baumuster B is a modern interpretation of the classic German pilot's watch. Many of the design details of the original are preserved here, albeit in a smaller and more refined package.
As far as differences go – the massive 55mm case of the originals has given way to a very wearable 40mm, and the solid case-back has been swapped for a more refined sapphire window, showing the well-decorated ETA 2824-2 beating underneath.
German military watch purists won't be disappointed though. The dial itself, with stark white numerals along the outside to represent minutes and a smaller, concentric circle on the inside to display hours, is nearly identical to the original worn by the German pilots.
The blue-steeled hands change dynamically from blue to black, depending on the light, and the watch overall remains a paragon of readability.
It can even be made to have the engraving 'FL23883' on the side of the case, a detail found in nearly all of the originals across manufacturers (the FL stands for flight, the 23 indicates a navigation watch, and the 883 was assigned by the German Testing Office for Aeronautics).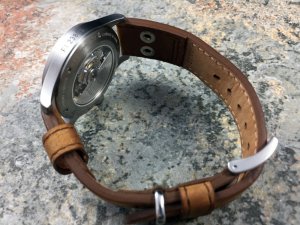 The included strap is of fairly decent quality, a nice brown leather with dark brown stitching and steel rivets securing the folded ends. I think maybe it would look better on something that looked a bit more distressed though, like a light suede or vintage black leather.
If you're buying the watch directly from Stowa, you actually have a few different strap options to choose from. Of the three main options available, a casual leather strap (in black or brown), a metal Milanese strap, and a dressy Croco style strap (also black and brown), I feel the standard leather offerings fit the look best, but it's all personal preference. And if none of those work for you, there is always a classic NATO to fall back on.
Compared to similar offerings from Laco, IWC, or even Stowa's own catalog, the 40mm rendition of this pilot's watch is very understated. It's 10.2mm case slips discreetly under a cuff-link, and it's not nearly as large as some of it's competitors. Overall, it's a great choice for those looking for a pilot's watch that doesn't completely overwhelm the wrist with a dinner-plate sized dial. Those looking to size up slightly might want to look at the Stowa Flieger Klassik Sport Baumuster B instead, it has a sportier 43mm case that would probably work better for larger wrists.
Inside the Watch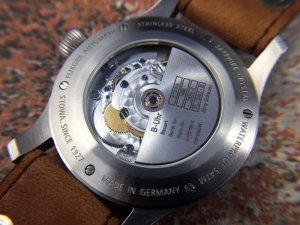 Stowa is well-known for it's attention to detail inside the watch, and this model is no exception. Stowa regularly utilizes top grade ETA modules in many of their models, with this particular model housing the tried and true ETA 2824-2. There are some interesting subtle details here as well, with nicely executed perlage on the base plate, heat-tempered blue screws, and a beautiful spiraling Côtes de Genève finis on the surrounding base plate of the movement. As far as decorated ETA movements go, Stowa does a great job.
I should also mention that these watches can be ordered with custom engraved components. The model I have in my hands has the basic specifications of the watch engraved on the rotor, including the name of the watchmaker, but can also be inscribed with a simple 'Stowa' logo, or even a custom message specified at the time of production. Additionally, some Stowa models allow customization of smaller movement components, like the two gear wheels that drive the movement of the hands on the dial. Overall, this is an excellent option for those looking to purchase a watch that can be personalized for a special occasion or life event.
Main Competitors
If you're in the market for a German style Flieger watch in this price range, there are several competitors worth taking a look at. The main companies to consider are Archimede, Laco, Steinhart, and IWC.
Archimede and Steinhart are the relative newcomers in this group, but both offer solid German-made Flieger homages with Swiss components. Archimede offers it's version of the 42mm B-Type Pilot's Watch in steel, titanium, and PVD, and is very high-quality with it's in-house ICKLER case and ETA 2824-2 movement. Steinhart, a company known more for it's homages than original designs, also offers a 44mm rendition of the Nav-B with many of the same features.
IWC is still well-known for it's line of modern pilot's watches, even if they don't make anything similar to the 1942 Type-B currently. If you've got the funds, IWC's watches are exceptionally well-made and respected around the world. They are in a whole different price bracket, though, with many models exceeding five figures.
The best value of the group here might just be from Laco. One of the five companies that originally produced this watch, Laco still manufactures a Type-B Pilot's watch that can be had for a bit under $300.
Be aware though, recently Laco has switches from Swiss ETA movements to Japanese Miyota movements. Although known to be reliable, I think it takes a bit of the authenticity away from an otherwise well-respected value brand.
Conclusion
Sometimes I struggle with the romanticization of watches that were complicit in such large scale atrocities. It's hard to evaluate a watch objectively knowing that it's existence is owed to the pursuit of human suffering. But still, from a historical standpoint it's hard to deny the intrigue of a design that has been so influential in the development of the modern pilot watch. It is an exceptional tool that has reached an iconic status in the community, and today's modern Stowa's are a couple of generations removed from the 55mm behemoths that accompanied many a German pilot to their demise during the fall of the Third Reich.
But as far as B-Uhr style watches go, the 40mm Stowa version is a great option. A very respectable size coupled with an authentic brand history and high-quality components make the Flieger Klassik 40 Baumuster B a great choice for enthusiasts of German history, military-style watches, or even just everyday watch fans. It's a simple watch with very little pretense or bling, yet a great conversation starter in the presence of the right people.
At around 800 euros, it's positioned solidly in the middle ground between the affordable mechanical pilots of Archimede, Steinhart, and Laco, and the high-priced luxury offerings of IWC and Glashutte original. And the huge variety of dials, straps, sizes and personalizations ensure that you'll likely find a combination that will suit just about anybody.
You can buy the Stowa Flieger Klassik 40 Baumuster directly from Stowa.
---
---
---