A Little Bit of Background
Squale, literally translating to "Shark" in Italian, is a small boutique dive-watch company with deep connections to the golden-age of mechanical dive watches. Founded in 1959 by Charles Von Buren, Squale made it's name  in the 1960's producing cases for some of the Swiss watch-making giants, with names like Blancpan, DOXA, and Tag Heuer utilizing Von Buren's innovative waterproof case technology.
Two of Squale's most popular watches, the 50 Atmos and the 101 Atmos, are still in production today under new Italian ownership. Today I'll be reviewing the modern incarnation of the Squale 50 Atmos Blue Super Matte, a sporty 42mm diver with 500m of water resistance and the self-winding Swiss ETA-282402 movement.
Design and Wearability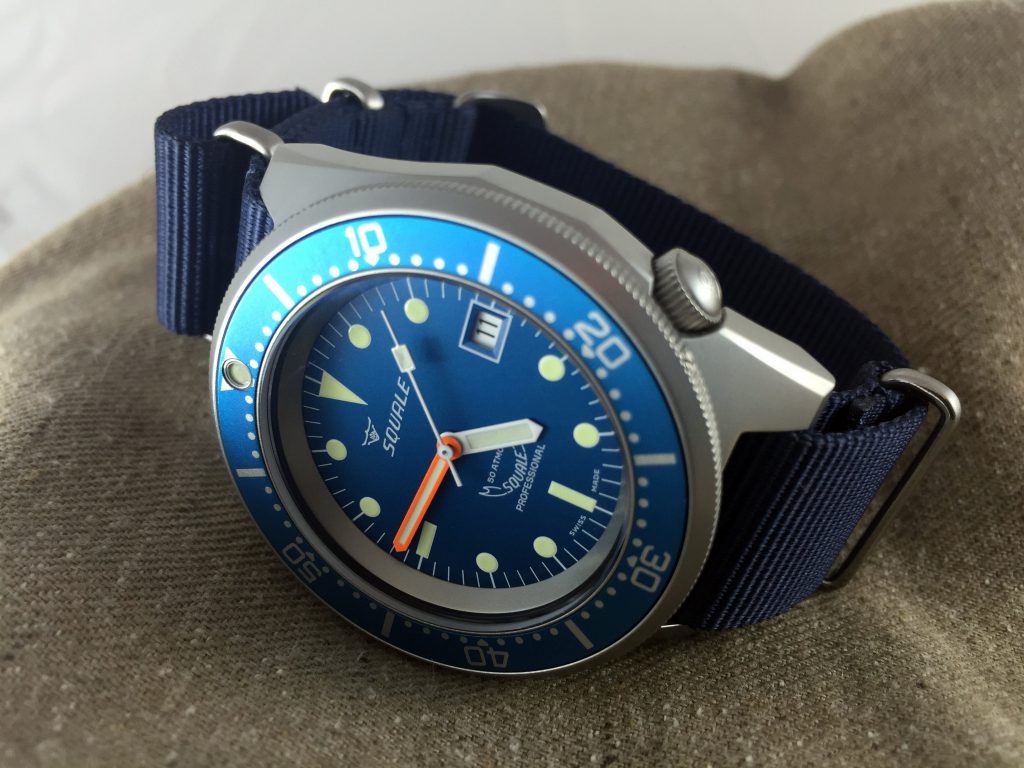 The 50 Atmos comes in several color combinations and finishes, with orange, black and blue as the primary options for the dial color. The finishing itself is available in a standard polished stainless steel, a satin matte finish, and a stealth black PVD as well. Bracelet choices include several colors of premium Italian rubber, a steel Mesh bracelet, or a tan leather strap that contrasts beautifully with the blue hue of the dial and bezel. Each combination is equipped with the classic retro inspired dial, the minute being finished a brilliant orange, and a square tipped seconds hand. This is a very small wearing 42mm watch, as the short lugs curve beautifully to hug the wrist.
The flat crystal, 20mm lugs, and thin coin-edge bezel also contribute to the overall "small-wearing" properties of the watch, and it makes for a very comfortable wrist presence, even for those with small wrists. The quickset date is featured at 3 o'clock, with a matching white date-wheel and outlined white square. In a slightly strange design choice, the dial features two version of the Squale logo, the modern incarnation on top and the "shark" version of the logo adorning the bottom. This may be a nod to the co-branding Squale used in a lot of it's midcentury case collaborations, but it's clearly not appreciated by everyone.
Basic Features
This is a simple three-handed dive watch with your usual components, a 60-minute timing bezel and a waterproof case. Most notable is the case itself, which features unique curves and angles that come together beautifully and functionally. The Squale name is engraved into the side of the case and is much more subtle than otherwise indicated in pictures. The shade of blue is a tad lighter than your typical dark navy and could be best described as a beautiful Azure reminiscent of Caribbean waters.
On the matte finish, the light can actually alter the shade of blue, making it a bit darker and more subtle in indoor settings and brighter and more vibrant outdoors. The case itself is rated to 500m in depth, and while this is an outstanding technical achievement, it is far deeper than any actual diver would be capable of swimming. The unidirectional 60-click bezel has a beautifully detailed coin-edge and small adjustment screws, and twists easily with little play.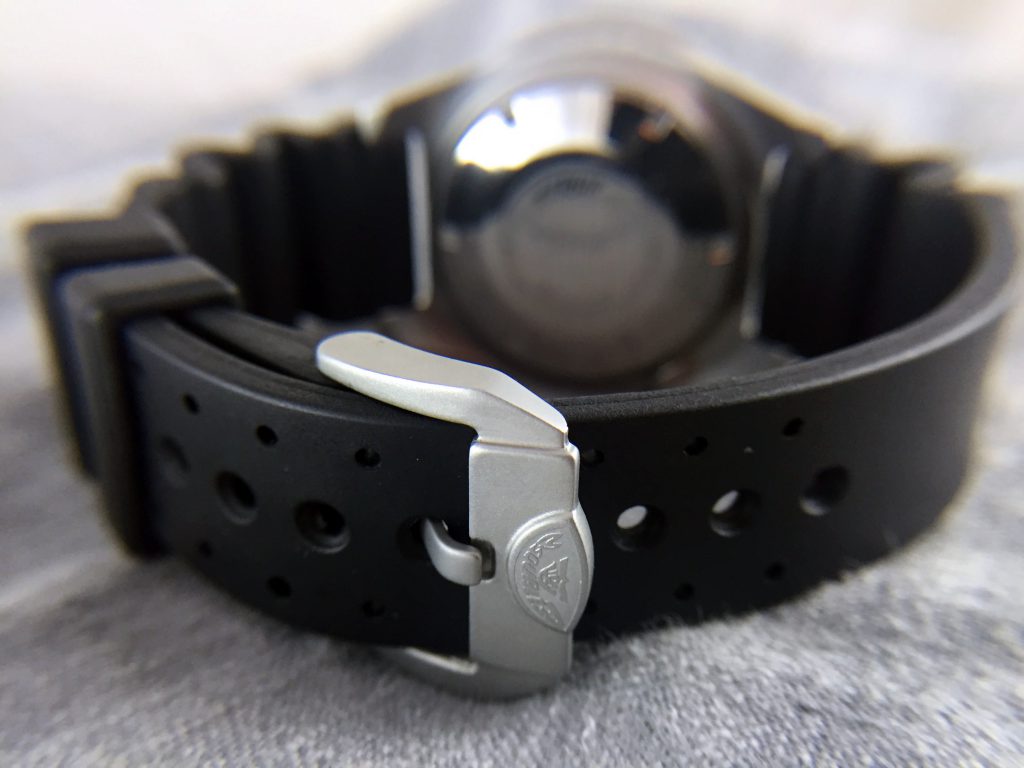 One polarizing feature to call out is the unique 4 o'clock crown. It looks beautiful but can be a bit fussy to operate. Because of the crown's somewhat recessed position, the case itself can somewhat impede the time-setting operations. While not unsurmountable, it's an important nit-pick on an otherwise fantastic piece.
The matte finish itself is one of my favorite features of this watch, its dull satin luster making it the perfect "sleeper" and complimenting the overall tool aesthetic quite well. One thing to keep in mind with this finish is that major scratches are not so easily polished out, although it typically does of pretty good job of hiding them.
Quality Control and Lume
The lume itself is bright, although not nearly as bright as some comparable divers with larger lume markers. One thing I wanted to bring attention to was the quality control used on the lume itself. Of the two Squale watches I've owned, both of them have had some quality control problems in the application of the lume. The 20 Atmos that I owned was a mess, with the luminous material clearly overflowing the markers. This watch was returned.
The 50 Atmos I own doesn't have anything as major as that, but there is a small pit in the lume applied within the square on the seconds hand. While I can't make sweeping generalization based on the two Squale watches I've owned, based on similar stories I've read online, it's wise to be weary of buying these watches second hand to make sure you don't get one from a faulty run. Some people won't even notice, but if you're obsessed with details like I am it may drive you crazy.
Conclusion
Coming in at the $900, the Squale 50 Atmos is one of the few remaining divers with genuine swiss parts and authentic dive history to be had in the sub-$1000 price range. The blue matte version of this watch is a fun change-up to your standard black diver fare, and the color makes it a perfect summer companion, either at the beach or behind a desk.
---
---
---