Introduction
Marathon is a Swiss-turned-Canadian watch company that has been manufacturing and issuing military-spec watches to American and Canadian forces since 1941. One of the only watch companies in the world to hold a current contract with the U.S. Department of Defense, Marathon watches are popular with both military personnel and tool-watch enthusiasts alike.
Marathon's lineup of rugged and functional watches include several divers, a chronograph, a navigator, and an all-purpose field watch. Using a no-nonsense design approach emphasizing readability, durability, and ease-of-use, the Marathon watch line epitomizes the military style wrist watch with authentic military capability.
One of my favorite elements of the Marathon watch line is the utilization of luminescent H3 tritium gas. Sealed into extremely tiny glass tubes affixed to the dial, H3 tritium gas produces a nice consistent glow for up to 20 years (without the need for external light). And yes, these tubes are actually mildly radioactive, but in amounts no larger than the average background radiation you're already exposed to every year.
Cheap "military-style" watches are currently everywhere at the moment. And if you're just interested in that style, by all means grab a cheap one and enjoy it. But if you're looking for the real thing, a watch with the looks and the chops to back it up, you should take a closer look at Marathon.
Build to Government Specifications
All Marathon watches are constructed to adhere to strict list of military requirements to ensure they survive rugged use. Similar to the ISO diving standards, the requirements document outlines specifications for resistance to various environmental stressors.
Some of these requirements include:
Ability to survive shock
Resistance to extreme temperature storage
Functionality under water and at high altitudes
Resistance to magnetism
Resistance to corrosion
These are just a few of the performance standards these watches are built to, you can read the entire list of requirements and testing methods in the official DOD MIL-PRF-46374G specifications.
The most popular models from Marathon include the acronym-soup of GSAR, TSAR, GPM, CSAR and GPM, which are explored in more detail below.
Government Search and Rescue (GSAR)
| | | | |
| --- | --- | --- | --- |
| Size: | 41mm x 48mm x 20mm | Movement: | ETA 2824-A2 |
| Thickness: | 14mm | Special Features: | Tritium Gas Tubes, MaraGlo, Diving Bezel, Date |
| Depth Rating: | 300M | Buy Online: | Buy on Amazon ($1,250.00) |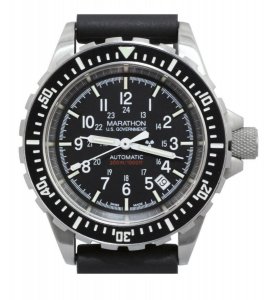 The GSAR is Marathon's flagship ISO-certified Dive Watch. Featuring a ubiquitous ETA-2824 Swiss automatic in a thick 41mm steel case, the GSAR is a beefy no-nonsense diver not for the meek-wristed.
The bezel is very tall and toothy compared to most other dive watches, making it easy to grip in wet conditions. Similarly, the oversized screw-down crown is grippy and large, making it easy to adjust with gloves.
Attached to a sleek black vulcanized rubber strap, the GSAR is probably the most utilitarian dive-watch on the market.
Tritium Search and Rescue (TSAR)
| | | | |
| --- | --- | --- | --- |
| Size: | 41mm x 48mm x 20mm | Movement: | ETA F06 Quartz |
| Thickness: | 14mm | Special Features: | Tritium Gas Tubes, MaraGlo, Diving Bezel, Date |
| Depth Rating: | 300M | Buy Online: | Buy on Amazon ($950.00) |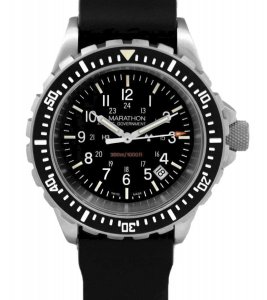 The TSAR is practically identical to the GSAR, only using an ETA Quartz movement in place of the Swiss automatic module.
So why would you choose the TSAR over the GSAR? For one thing, it's about $200 cheaper without the mechanical movement. In some ways, a Quartz movement is more reliable and more accurate than a mechanical movement and may be better suited for usage in harsh environments.
With that said, there is always a risk of running out of juice with a quartz-powered movement. Just make sure you have an extra battery handy.
General Purpose Mechanical (GPM)
| | | | |
| --- | --- | --- | --- |
| Size: | 36mm x 41mm x 16mm | Movement: | ETA-2801 |
| Thickness: | 11mm | Special Features: | Tritium Tubes, 24 hour scale |
| Depth Rating: | 30M | Buy Online: | Buy on Amazon ($360.00) |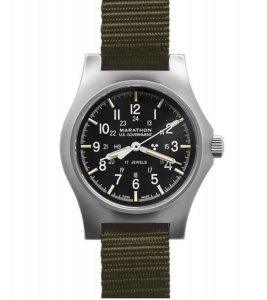 The Marathon GPM (General Purpose Mechanical) is Marathon's all purpose field-watch, a modern reinterpretation of the A-17 field watch produced by several manufacturers for the U.S. military post-WW2. In fact, there is a limited edition version of this watch that uses NOS ETA-2801 hand-wind movements signed by Benrus, the same movements used in those trusted original models.
This watch has the proportions of a vintage military watch as well. At 36mm with a 16mm lug width, the GPM would be considered small by modern standards. Additionally, the non LE version of this watch has a plastic case and crystal, which might not be everyones cup of tea.
It is striking in it's simplicity though, and being available in Tan, Green, and Black it is a great choice for a casual outdoor watch.
Chronograph Search and Rescue (CSAR)
| | | | |
| --- | --- | --- | --- |
| Size: | 46mm x 55mm x 22mm | Movement: | ETA 7750 |
| Thickness: | 17mm | Special Features: | Timing Bezel, Chronograph, Day/Date |
| Depth Rating: | 300M | Buy Online: | Buy on Amazon (n/a) |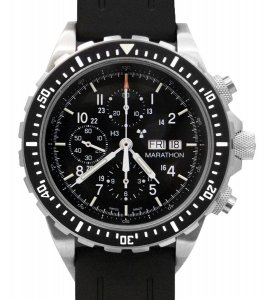 The Marathon CSAR is Marathon's chronograph for divers and pilots. This watch is massive though, featuring a 46mm case with 55mm lugs (not to mention it's thick as a tuna can), making it only suitable for those with much larger wrists.
Featuring the venerable Valjoux 7750 chronograph movement, this Marathon is powered by a real Swiss workhorse underneath all that steel. The pushers and crown are screw-down, making this an excellent watch for underwater activities as well.
Pilot's Navigator
| | | | |
| --- | --- | --- | --- |
| Size: | 42mm x 47.7mm x 20mm | Movement: | Swiss Quartz |
| Thickness: | 13mm | Special Features: | Bi-directional Timezone Ring, Fibreshell, Hesalite Crystal, Tritium Tubes, Date |
| Depth Rating: | 60M | Buy Online: | Buy on Amazon (n/a) |
The Marathon Pilot Navigator is an affordable and wearable entry in Marathon's lineup, featuring a 12-hour external bezel for tracking two time-zones. There are also minute-markers up to 20 minutes, allowing the bezel to double as a dive timer.
The case bows out imposingly on the crown side, and the domed crystal lends to the vintage mil-spec aesthetics.
It's a great choice for those those looking for a bit more functionality over the general purpose mechanical field watch without breaking the bank.
Conclusion
If you value functionality and authenticity in your military style watches, there aren't many better modern choices than the watches offered by Marathon. Built and used by actual military personnel, Marathon watches are well-suited for a variety of outdoor activities.
If you factor in the usage of real Swiss mechanical movements, Marathon presents an excellent value in the world of Swiss mechanicals tool watches. The Tritium tubes make them stand-out from the pack of other SuperNova illuminated watches, and the overbuilt cases are sure to stand-up to years of hard use. In a world of cheap military imitations, why not pay a bit more and get the real thing?
---
---