Sinn: A Tool Watch Innovator
Since I started collecting watches years ago, I've always been taken by the models being produced in Germany by the likes of Sinn, Tutima, and Junghans. Although not as well-known as their Swiss counterparts, the German watch industry has been producing striking timepieces for over a century. And since most German time-pieces have swiss movements, they are every bit as reliable as their counterparts across the border.
Sinn (pronounced Zinn), has been producing watches since 1961, and is well-known for creating rugged, military inspired pieces with unique and innovative manufacturing processes. Argon and oil filled cases, super-hardened submarine steel, and lubricant-free escapements are just some of the innovative features you can find in Sinn's lineup of watches. Combining those technologies with a world-class case manufacturing facility and a no-nonsense german military aesthetic, you get one of the world's most popular and respected tool watch brands.
Today, we're reviewing the Sinn 556i, a watch that lacks some of the high-tech features of it's more expensive brethren, but remains a highly versatile and compelling option.
The Modern German Flieger
The Sinn 556i is one of Sinn's "entry-level" pieces with a retail price of $1,260 ($1,020 on leather strap). They can also be found regularly on the secondary market for around $800 – $900 USD. The watch comes in two variants, the 556A and the 556i, the former having arabic numerals at the 3, 6 and 9 positions instead of the simple white batons (making it a bit more "explorer-esque"). One thing to note about the "A" variant is the position of the date window is between 4 and 5 instead of at 3. Both versions are available with either a black leather strap or the satinized steel bracelet.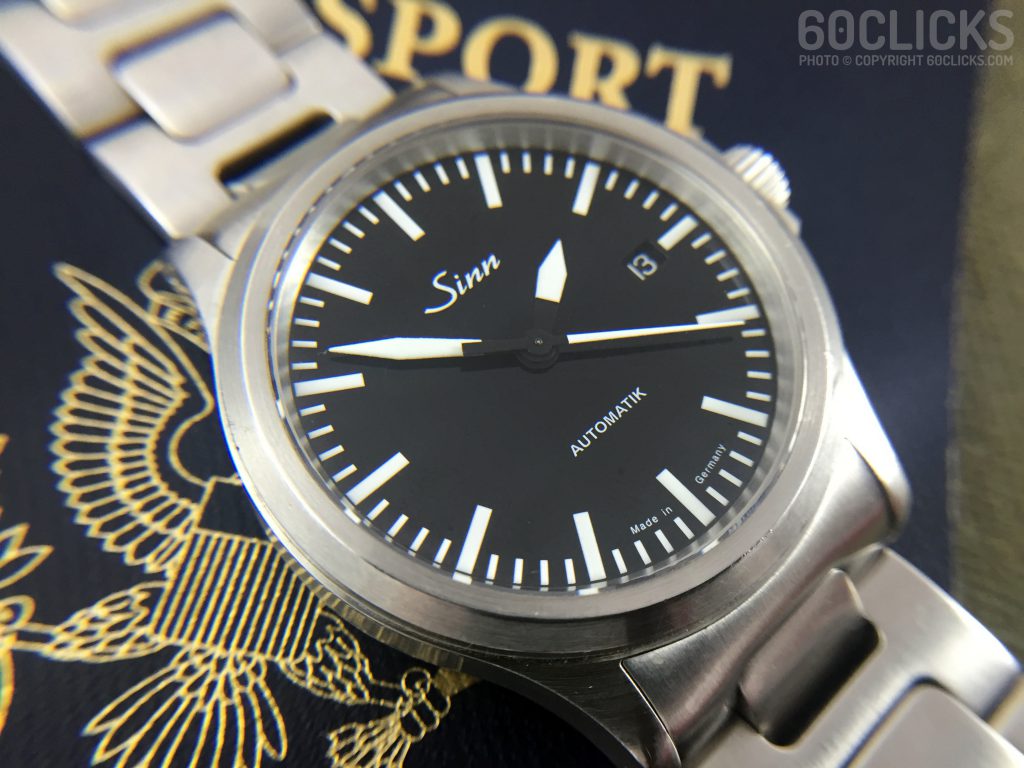 The dial layout is a simple three-hander done in a minimalist pilot's style. There is a very interesting use of black negative space on the interior of the hands that creates a "floating" effect. The dial is a matte black which contrasts very well with the bright white indicators. The legibility of this watch is outstanding, it can be read easily even from a distance. The drilled lugs make changing straps easy, and it looks great on a variety of nylon and leather straps. The case sports a water resistance of 200 meters and a protected screw-down crown, rivaling the underwater capability of some dedicated dive watches. The watch also has basic antimagnetic, temperature, and shock resistant properties that add to its overall durability.
The bracelet is a simple H-link style, brushed stainless steel that feels very comfortable on the wrist. The signed buckle is equally utilitarian but fits perfectly with the overall package. I didn't have the black leather bracelet as part of this review, but it does give the watch a more formal look. Although I prefer it on steel or NATO, I think the leather is a good option for those wanting to wear the watch in a more professional setting.
I believe that the 556i is the perfect size for a casual sports watch. At 38.5 x 45.7 x 11mm, with 20mm drilled lugs, the watch will fit very comfortably on a large variety of wrist sizes. In a world where 45mm dinner plates are considered fashionable, some may feel that the 556 is a tad small. On the contrary, I believe the watch has a masculine presence that belies its modest case size.
Movement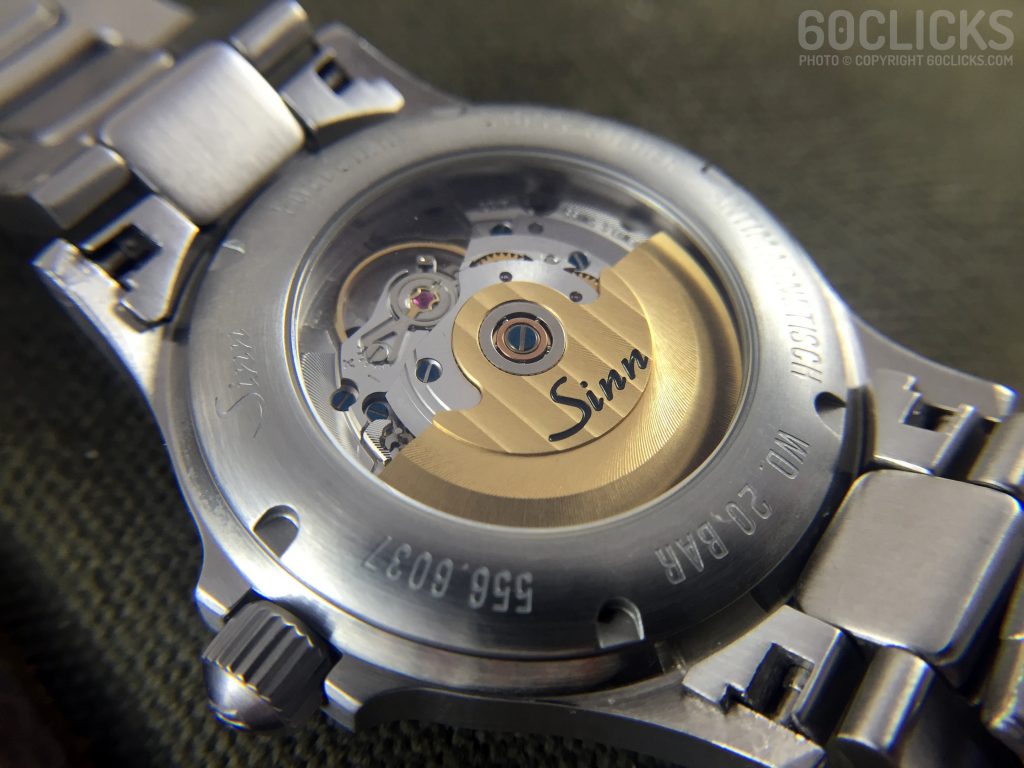 On the backside of the watch is a clear sapphire screw-down case back that displays the beautifully decorated swiss movement. It's truly something to behold.
The movement itself is a top-grade ETA 2824-2 with 25-jewels featuring hacking, hand-winding, and a quick-set date. Although nothing particularly unique, this movement is a well-proven workhorse that has been used for years in watches from many brands. The movement is self-winding and features a nicely contrasting gilded Sinn rotor, as well as several other embellishments and decorations like tempered blue screws. The accuracy of this movement is very good, with my last measurement coming in at +/- 6 seconds per day.
Some Drawbacks
The Sinn 556 does not come without flaws. Most notably, the anti-reflective (AR) coating on the outside of the crystal is the weak link in an otherwise robust construction. Although it does provide a small amount of increased legibility by reducing glare, I don't feel it's not worth it for the potential down-side. The coating picks up nicks and scratches very easily, and after a few years will really start to look poor. Additionally, the coating itself picks up smudges and fingerprints easily, making it a constant chore to wipe the crystal clean. I'm not sure why Sinn didn't just opt for using AR only on the underside of the crystal like other brands. Luckily, it's not all that difficult to remove entirely, like I've done on my personal model.
The second nitpick is the luminosity. Although not the worst I've seen, it's certainly not up to the brightness level of some of Sinn's diver models. It glows rather weakly and the charge doesn't last for long. Additionally, because of the radially symmetrical dial configuration, it can be difficult to tell which way is up (12 o'clock) in the dark. It would've made sense for Sinn to use a double marker or triangle at 12 to help with orientation in low light conditions.
Conclusion
Overall the Sinn 556i is an excellent timepiece, especially for fans of military-styled or minimalist watches. There is nothing "bling" about this watch and it probably won't impress anybody at a dinner party, but for an everyday watch that can take a beating and go anywhere, it's tough to find a better option at this price.
---
---
---
---