Introduction
The Seiko "Tuna" is a well-known dive watch in enthusiast circles. Named after its slab cylindrical casing that resembles a Tuna Can, the watch has been subject to much praise and criticism from fans and detractors alike. Much like the Seiko Monster however, many detractors have become converts after seeing and wearing the watch first-hand – realizing that the beauty of this watch comes from its utility and history, not just its surface appearance.
Although the SBBN017 was released years ago, I feel it still sets the benchmark for the entry-level Tuna models and is one of the most desirable of the available configurations. Finding one new is beginning to become a challenge as its production is phased out, but second-hand models are still plentiful for those willing to wade into the secondary markets.
Today we're taking a closer look at the Seiko SBBN017, a classic and affordable Seiko tool watch that set the benchmark for professional quartz divers over 50 years ago.
A Brief History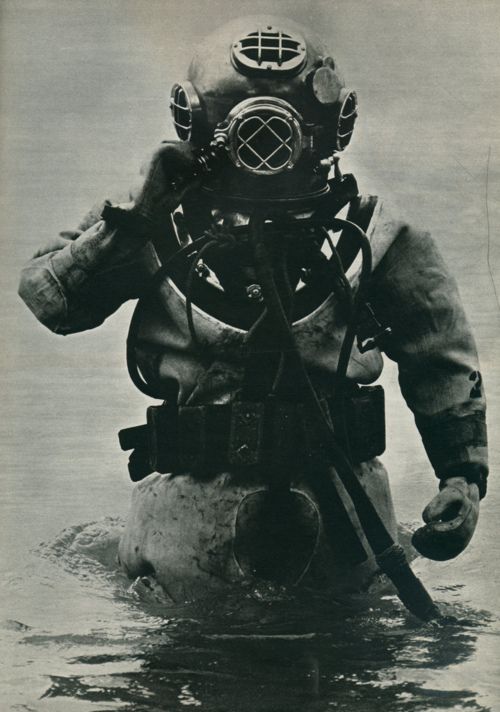 The Seiko Tuna lineage has a long and interesting history with Japanese saturation diving. Seiko released its first dive watch – the iconic "62MAS" – way back in 1965. It was a very capable dive watch, but didn't reflect the evolving challenges presented by saturation diving.
Traditional dive watches were typically worn over a wetsuit, needing only to resist water penetration at depths of up to 200 meters. Saturation diving was developed to allow divers to work at greater depths for longer periods, surrounding the divers in a high-pressure chamber filled with helium and oxygen. This greatly reduced the problems caused by decompression sickness, but created a new problem for dive watch manufacturers.
In 1968, the Seiko design team received a letter from a diver in Kure City complaining that his Seiko dive watch was experiencing failures in saturated environments. The chambers were pressurized with a mixture of helium and oxygen, and since the helium molecule is much smaller than most other gas molecules, it easily penetrated the small tolerances of the watch case. This resulted in the dive watch filling with helium gas, often causing the crystal to pop off in the process.
Most watch companies at the time, namely Doxa and Omega, had solved this problem using a "Helium Escape Valve". This was basically an additional screw-down valve that was opened manually to release pressure within the watch. Ikuo Tokunaga and his team decided to eschew this approach and take a clean slate as they began the development of the perfect professional dive watch.
7 years later, Seiko had realized its vision with the release of the Seiko 6159-7010 ("Grandfather Tuna"), a watch that precipitated many technical breakthroughs and resulted in over 20 new industrial design patents. The titanium monocoque case, ceramic shroud, L-shaped gasket, and vented rubber straps were all firsts for the industry. The result was a watch that achieved Helium tightness without the use of a Helium Escape Valve, and served as a reliable companion for both saturation and traditional divers alike.
Today the Seiko Tuna lives on in close to two dozen different configurations, including vintage models and modern limited editions. For those averse to Quartz, you can even obtain this model with Seiko's legendary hybrid spring drive movement, although it is significantly more expensive.
For more information on the history and evolution of the Tuna, a complete guide can be found in another blog post – Behind the Shroud: The Ultimate Seiko Tuna Collector's Guide.
Thoughts on the Design
The SBBN017 Tuna has all the hallmarks of the Tuna lineage with a few small exceptions. It's cylindrical slab casing, shrouded in a matte protective shell with cut-outs at opposite corners, is a universal feature of these watches. When I first laid eyes on this watch, I was sure it would be too big for me. At just over 44mm, it should be. But the small polished lugs make the watch all case, and much to my surprise it wears wonderfully on a small wrist, with just over 47mm lug to lug.
The dial itself is also very familiar, with large luminescent hour markers and a prominent triangle to indicate 12 o'clock. It's a bold and legible dial that is quintessentially Seiko. One of my favorite features of the JDM dials is the Kanji date wheel, a feature that allows you to view the day of the week in English or Japanese. Even though keeping the date wheel on Kanji obscures my ability to read the date, I feel a whole lot cooler wearing it.
The unique elements of the SBBN017 start with the bezel. Most Seiko Tunas have a black aluminum insert for the bezel, whereas the SBBN017 has a stainless steel engraved bezel with black insets. The only other Tuna model with a stainless steel bezel is the SBBN007, a similar looking predecessor to this watch that has unique "crop-circle" markers. The steel bezel has a beautiful radial brushing that makes the whole package feel cohesive, and the contrast with the matte shroud and polished lugs and screws make for a very visually interesting case.
The hands are the classic Tuna "split-arrow" style, a design that was controversially discontinued for a more streamlined look on the latest Tuna release (SBBN031). My personal opinion is that the classic handset is far superior to the simplistic hands found on the latest model. They appear more proportioned to the dial, although some might find the SBBN031 to be a bit more visible at depth.
The crown is a wonderfully machined piece, with an engraved and polished Seiko "S" floating over an inset matte background. It's thick and chunky and screws down with reassuring force. Given that that battery life on these watches is 5 years plus, you won't be using it much. And with an astounding movement accuracy, you likely will only need to re-adjust the time once a month.
The crystal is hardlex, and not sapphire, and that may bother some purists. But the Seiko Hardlex has proven to be extremely durable, and in my opinion adds a bit to the appeal of owning a watch with almost 100% in-house machined parts. It has a slight dome and sits with a subtle inset within the bezel. Viewing angles are excellent, but the lack of anti-reflective coating does cause glare in certain situations.
Consistent with most Seiko dive-watches, the lume is absolutely killer. It radiates light like a nuclear furnace, and the glow lasts for hours into the night. I would say it is markedly better than the lume on the Turtle or the Monster, due to the size and thickness of the markers in which the material is applied. Lume fanatics will not be disappointed with this watch.
I should note that the strap seen in my pictures of this watch is not the original rubber strap that ships with this model. I believe the original strap is similar to the pliable rubber strap found on the Seiko Turtle, although I can't be sure as I haven't handled it.
Overall, it's an absolute knock-out in the design department. There are some that may consider it ugly, but as a tool and dive watch I feel the design is absolutely perfect. Industrial, legible, durable, and a classic Seiko design with impeccable attention to detail and quality. Each part feels purposeful and well-designed, and the interplay of materials and shapes comes together to form a remarkably cohesive piece.
The Movement
Big shocker, it's not a mechanical movement. But watch geeks need not despair. Inside most of the Tunas, minus the Spring Drive editions and "Grandfather Tuna", is one of the most advanced in-house Quartz movements available.
This particular model has the modern 7C46 movement, a high-torque quartz movement with a 5-year battery life designed specifically for this watch. It's not a throwaway movement either, designed to be serviced in the future if something was to go wrong. It has the standard end-of-life indicator, ticking twice per-second when the battery needs to be replaced. And the caseback has years etched into it, allowing the watchmaker to mark the date of next service if so desired.
Being a quartz watch, accuracy is not something you need to be concerned with. Most Tunas will be accurate to +/- 2 seconds per month, and it's more likely that you will be using your Tuna to set your other mechanical timepieces than worrying about its accuracy.
And for the mechanical movement purists, the quartz engine may be a point of contention for obtaining this watch, but the merits of a battery powered watch are hard to deny. Sublime accuracy, completely shockproof construction, and low cost maintenance are just a few things that make this watch superior to a mechanical diver – as long as you can forgo that smooth mechanical sweep.
If you don't have a quartz watch in your collection, I highly suggest the Seiko Tuna as a great place to start. Its quality makes for a watch that even mechanical watch aficionados can get excited about.
Conclusion
Much like the other long running Seiko dive watch models, it's tough to beat the quality and value ratio found in this watch. It just feels like a solid piece of kit, and as a casual summer watch it's hard to compete with its combination of industrial utilitarian looks and serious dive capabilities.
For fans of dive watch history, the Seiko Tuna can go head to head with Doxa, Omega, and Rolex in terms of technical innovations. And with most models being available for less than $1000, it's tough to justify spending three times as much for one of the "luxury" brands when you can own an absolute diving legend for much less.
Although I would argue that both the SBBN015 and SBBN107 continue to be the models you want from this range, there is something to be found for collectors across the entire model spectrum. From the jet-black "Darth Tuna" to the classic "Grandfather Tuna", the range contains enough interesting models and variations to keep collector's busy for years.
Just be warned, once you grab a Tuna, it most likely won't be your last.
---
---
---