Introduction
If you're even slightly tuned-in to the dive watch community, there is a good chance you've heard of the Seiko 'Turtle' Re-issue. As a recommendation for new collectors and Seiko die-hards alike, it's not uncommon to hear the SRP777 and SKX007 mentioned in the same breath. This charming vintage diver has made it on many a watch blogger's 'must-buy' list, and I'm certainly not here to change that.
Again we're confronted with a Seiko value-proposition that is almost impossible to deny: A well-made ISO-rated dive watch with an in-house movement, built by a company with 150 years of history, made into the image of a modern classic — all for under $300? Seems a bit too good to be true.
But that is exactly what Seiko has done here. The SRP777 is a perfect example of a watch whose price to enjoyment ratio is simply off the charts. This is the type of watch that will banish many of your high-end luxury pieces to the watch-box for weeks at a time and leave you confused as to why you spent so much money on them in the first place.
The nickname 'Turtle' is a bit divisive within the Seiko enthusiast community. As far as nicknames go, it's not one of Seiko's worst, but it does seem to draw the ire of many a die-hard fan. Maybe they feel the 'Turtle' is too slow and ugly to represent such an iconic watch? Or maybe it's simply just too cute for this burly tool? Either way, it seems to have stuck, and it rolls of the tongue a bit better than 'SRP777' anyway.
So lets take a closer look at the 2016 re-incarnation of Seiko's dive classic.
Design and Wearability
Seiko has been quite adept at making large dive watches wear well on a large variety of wrist sizes, and the Turtle is no exception. Although relatively large at 44mm, it's square 'cushion-case' design and squat lugs make it wear comfortably on all but the smallest of wrists. While many large dive-watches feel top-heavy and unbalanced, the SRP777 defies it's size on the wrist, and wears incredibly comfortably too.
The basic design itself is essentially an homage to Seiko's own 6309, a popular dive watch produced by Seiko from 1976 to 1988, and one that is still immensely popular with collectors. It shares a very similar aesthetic too, with Seiko's quintessential 'arrow' shaped hands, day-date display, and oversized 4 o'clock crown. It's a design that is devoid of fluff or nonsense, an essential tool watch configuration that would make any self-respecting pragmatist blush. Yet somehow, it reveals a level of refinement and quality that should excite any serious watch-collector as well.
The dial is big and bold, with a mix of circular and trapezoidal markers. Each one is slightly raised, with a subtle silver outline and generous application of Lumibrite. The inner chapter ring displays thicker lines at each 5-minute demarcation, and provides a visual connection from the dial to the timing bezel. The center of the dial features the Seiko 'Prospex' X logo, along with the text "AUTOMATIC DIVER'S 200M". This would be the primary difference between the SRP777 and the 6309, with the latter vintage incarnation displaying "water 150m resist" above the iconic "Suwa" logo instead.
The vintage styled case contains a mix of polished and brushed surfaces. Outside of the rounded cushion shape, the polished edges and case curvature are very reminiscent of the SKX series. The case-back is beautifully decorated, with an embossed image of the Seiko tsunami featured prominently at the center of the screw-down case-back. The lugs are drilled, another great feature you won't find in the SKX, allowing for effortless strap changes.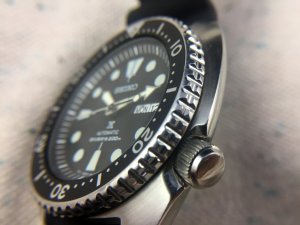 The 60-minute bezel action is smooth, if not a bit dull, with 120-clicks of action and a luminescent pip embedded at 12 o'clock. Also seen here is Seiko's signature sloping bezel design, with the entire insert tilted inward a few degrees to help with readability. A two-tiered groove pattern around the edge gives the bezel exceptional grip, as it's a proven design seen in many of Seiko's dive watches throughout history.
Now the bad news: like the SKX, there have been some reports of misaligned chapter rings and other minor quality control issues. On my personal model, the chapter ring does seem to be off by just a hair. Most people won't notice something like this, and unless you're OCD it can be easy to overlook. I'm not giving Seiko a pass here, but in this price range I don't think it's fair to expect absolute perfection.
Overall, it's a wonderful original design that is the perfect blend of vintage charm and modern refinement. It's a great entry-point into mechanical and Japanese watches as well, just be warned that if this is your first Seiko watch, it most certainly won't be your last.
The 'Turtle' is available in the following color combinations and limited editions:
Movement
Ticking away inside the SRP777 is Seiko's in-house calibre 4R36 movement. This movement is machine assembled, like most of Seiko's entry-level mechanicals, and has 25 jewels and a beat rate of 21,600bph. The power reserve is 41 hours, and unlike the 7S26 of the SKX series, this movement is hackable and hand-winding. Other than that, it's architecturally similar to the 7S26.
It's a perfectly reliable and long lasting movement, but lacks many of the embellishments you'd see in a higher end Swiss movement, including those commonly modified ETA 2824's. But this is precisely the point of this watch, it's a no-nonsense tool that will last you many years of service. With a solid case-back, it's not like you'll be gazing at the movement anyway.
The next-step up is the Seiko 6R15, which features a higher quality mainspring and balance, but acquiring a Seiko with this engine will push you into the $500+ range with models like the 3rd Generation 'Monster' or the 'Sumo'. I feel that the 4R36 is perfectly adequate in this watch, with some reporting accuracy in the +/- 5 second range, a remarkable achievement at this price point.
SRP777 vs. SKX007
The SRP777 is often compared to the SKX007/009, a similar (but cheaper) Seiko diver that is often recommended to new hobbyists as a great way to start off a collection. I won't argue with that, but my recommendation today is to skip the SKX007 and go right to the SRP777. Why? Quite simple: the price on the Turtle has come down to the point that for an additional $100 or so, you can get a vastly superior watch. Although similar in design, the SRP777 represents an upgrade in almost every department.
The first major difference is the movement. The 'Turtle' and it's variants contain the 4R36 in-house movement, a hacking and hand-winding upgrade to the basic 7S26 movement offered in the SKX series. As far as Seiko movements go, it's still on the entry-level scale of the spectrum, but performs quite admirably for an automatic watch. Both movements are incredible values, but having the ability to stop the seconds hand while setting the time makes a huge difference for overall accuracy and just gives it a much higher-end feel.
Although similar looking, the design and overall execution is a step-up on the 'Turtle'. The case itself is a bit different, with it's 'cushion' shape protruding a few millimeters outside the frame of the dial. This surface is also brushed, giving the SRP777 a bit more of a tool-watch feel than its polished counterpart. The dial has applied Lumibrite markers, giving the watch a much more dynamic '3-dimensional' quality. Additionally, the color on the plots matches the hands perfectly, a minor nitpick but something that always bothered me a bit with the SKX's mismatching colors.
Another huge quality upgrade was made on the strap. The basic SRP777 is shipped with a black rubber strap, while the other special edition colors are shipped with a stainless steel oyster strap. The SRP777 rubber and SKX007 rubber are on two totally different tiers. While the SKX007 strap feels like stiff plastic, the SRP777 strap is soft and pliable, a bit like silicone. Additionally, the buckle and keeper are well-finished and engraved with the Seiko logo. While I couldn't wait to change out the SKX007 strap when I first received it, the SRP777 OEM rubber is my preferred way to wear this watch. One thing to note as well, the SKX rubber strap did not tighten enough to fit my 6.5″ wrist, whereas the SRP777 rubber fits well on the third to last hole for me.
Conclusion
The Seiko SRP777 'Turtle' re-issue is an absolute home run from Seiko. It's got a classic design based on a popular vintage model, a reliable work-horse movement, and a storied brand that's been around for over a century. It's ISO-rated and perfectly capable of actual scuba diving duty, and tough enough to use as a hiking or general everyday outdoor watch.
For those looking to get their first affordable mechanical dive watch, the SRP777 is the way to go. If you're really strapped for cash, by all means grab an SKX. If you really want a taste of the quality Seiko has to offer though, my advice is to jump right in and skip to the 'Turtle', you won't regret it.
---
---
---