Introduction
It's no secret that we're huge fans of German-made watches at 60Clicks. Matching and sometimes exceeding the build-quality of their Swiss counterparts, German watches are often tragically overlooked by mainstream watch enthusiasts.
Today we're excited to take a closer look at watch produced by Hanhart, a company with a long and interesting history producing mechanical watches for military and civilians.
Although not yet well-known Stateside, Hanhart is picking up steam with enthusiasts who recognize the company for it's high quality vintage-inspired pilot watches and chronographs.
Let's take a closer look at the brand:
Some Background on Hanhart
Hanhart is boutique watch-making company located in the Black Forest of Germany, nestled betwixt the rolling green hills of historic Gütenbach inside a charming building that contains a small manufacturing assembly and horological museum.
Hanhart made it's name in the early 1920's producing reasonably-prices mechanical stopwatches for field sports and motoring. Before this time, stopwatches were notoriously expensive, inaccurate, and unreliable. And if you stop by their factory today, you will notice that a majority of their production floor is still dedicated to the pursuit of these mechanical tools.
Surprisingly, Hanhart remains one the sole modern manufacturers of mechanical stopwatches in Europe, distributing products to athletes, trainers, television studios, and many others. Of course, in addition to stop-watches, Hanhart also produces several high-quality wrist-watches, including the one we are reviewing today.
Founded in 1882, Hanhart does not possess massive manufacturing scale and distribution, instead it relies on a small team of dedicated watchmakers to produce watches in small-batches for it's customers. This attention to detail and craft is one of the reason's these models are so exciting. Watches are built by hand with parts manufactured in-house, like they've done for over a century.
It's line is a blend of both modern and traditional designs, some drawing from Hanhart's own historically important references.
Today we're taking a look at the Hanhart Pioneer TwinControl, a classic two-button Pilot Chronograph styled after some of Hanhart's own legendary pilot chronographs from WW2.
Design and Wearability
The Pioneer TwinControl is a watch that takes on the persona of the legendary "Calibre 41", a twin-pusher chronograph released in 1940 and utilized by German Military Pilots during WW2. Although many of the original design details have remained intact, Hanhart also took the liberty of modernizing a few small details.
The watch itself is largely faithful to the original specs: broad and elongated cathedral hands, fluted bezel, large illuminated arabic numerals, and asymmetrical pushers. From the modern era you get a double-domed sapphire crystal, date window, and reliable automatic ETA movement.
This watch has all the charm of the vintage original with the supreme build-quality of a modern watch.
Bowing to the pressures of modern upsizing, the Pioneer TwinControl has a 42mm case. Although considered mid-size by most standards, this is a fairly substantial watch.
Like most automatic chronographs, the case itself is rather thick to accommodate the large movement and rotor. At 15mm, this watch has significant presence on the wrist but does not completely overwhelm. I was actually surprised at how wearable it was on my 6.5″ wrist, a feat attributed to the watches well balanced proportions.
On the case-back you have a Hanhart engraved insignia along with the serial number and other information about the particular model. One thing to note here: this caseback cannot be opened by some types of standard case wrenches. A non-standard case wrench may be required if you wish to inspect or service the watch yourself.
The model I'm looking at today has the brown riveted leather strap, and I have to say, it's one of the highest quality stock leather straps I've seen. The leather itself has the feel of natural Horween, and the details are very well-executed. The stitching and rivets are flawless, and both the tang and strap itself are embossed with the Hanhart logo. Unlike some leather straps, it's not too thick and conforms comfortably to many different wrist sizes.
I haven't seen the steel bracelet yet, but I'd venture to say that leather is the way to go if you'd like to retain the original aviator's charm.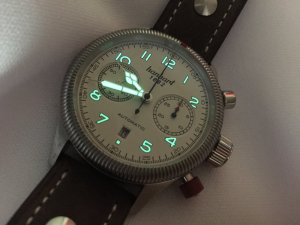 The C3 lume on this watch is incredible. Both the hands and numerals glow at the slightest provocation of darkness. Instead of a 6, you've got a small glowing pip at the bottom of the watch, although non of the sub-dials contain any luminous material. The black outlines on the numerals make the numbers glow even more distinctly, and I venture to say it's one of the brightest watches I currently have in my collection.
This specific reference is also available in a few different configurations: both a black and white dial version, as well as the mono-pusher variants and selection of riveted leather strap or steel bracelet.
The Little Red Button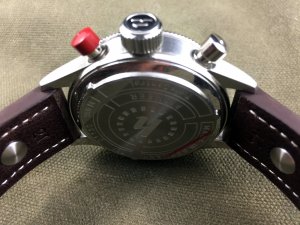 The fire-engine red pusher button is a tantalizing detail that has been a trademark of Hanhart design since 1938. Originally a thick coat of paint designed to prevent pilots from accidentally resetting their timers during flight, modern Hanhart Chronographs are now fitted with ceramic caps (ostensibly designed for the same purpose, although maybe now more aesthetic than functional).
This same material and color are also applied to elements of the dial: on both the chronograph sub-dial and the bezel pip. On the white dial, the effect is pronounced and ties together several parts of the watch visually.
This design detail is used throughout Hanhart's watch line. It's enough color to give the watch some pop without being too ostentatious and I appreciate the historical significance of this as well, even if it's become more of an aesthetic element than a functional one.
Movement and Functionality
The movement itself is an in-house modified Valjoux 7750. As you probably already know, the 7750 is a work-horse chronograph movement found in many modern Swiss and German chronographs. The modifications done to this movement were made primarily to accommodate the asymmetrical position and angle of the pushers, an integrated lever design which offsets the force delivered to the starting mechanism by mere millimeters. The complexity of this modification for such a minor aesthetic alteration is a testament to Hanhart's dedication to historical accuracy.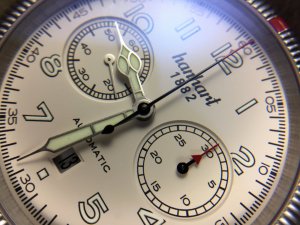 Due to the design of the unmarked bezel and thirty-second sub-dial, the utility of the timing mechanism is a bit limited. The bezel itself turns smoothly and does not ratchet or click. Since it has no markings, it's a bit more difficult to use it for accurate timing. The sub-dial – though highly legible – only turns through 30 minutes before resetting to zero. If you require timing functionality longer than that, best look at something like the Omega Speedmaster.
Even with those minor limitations, the chronograph itself is a joy to operate. The pushers are solid and timing functions are precise. The monopusher variant of this watch is a bit more interesting mechanically (having all three functions implemented in a single button), but I still prefer the dual pusher for it's ability to stop and continue on a single timing run.
Wrapping Up
By all accounts, the Hanhart Pioneer TwinControl is a high-quality and attractive watch befitting of what we've come to expect from the German manufacturers. At $2540, it is not a cheap watch by any means. Those looking to spend that kind of cash may be attracted to the bigger brand names with watches in this range, such as Tag Heuer, Omega or Breitling.
With that said, Hanhart is an enthusiast's brand through-and-through. With it's interesting historical provenance, small-batch manufacturing, and impeccable attention to detail, the Hanhart Pioneer is a fantastic chronograph that you won't likely see out at the pub (or the race-track).
And at $2540, I venture to say it's a bit of a value in a world where a Tag Heuer Carrera can go for double that price with practically the same components. Those in the market for a high-quality Swiss/German chronograph won't be disappointed.
---
---
---