Some History
The world of Casio G-Shock is a guilty pleasure for most serious watch collectors. These plastic digital watches out of Japan are typically garish, colorful, and maybe a bit outlandish. From the basic timekeeping functions (world time, stopwatch, timer, alarm) to more advanced functionality (altimeter, barometer, tide graphs), there is a G-Shock made for every situation.
Driven by shock-resistant quartz modules, these watches are known for being practically indestructible. Today we're featuring the GWM5610, one of the spiritual successors to the G-Shock that started it all in 1983 (the DW-5000C). The low-profile square design of this watch has been left largely unchanged, giving the new model a bit of historical cache to go with it's upgraded solar and atomic capabilities.
Design and Wearability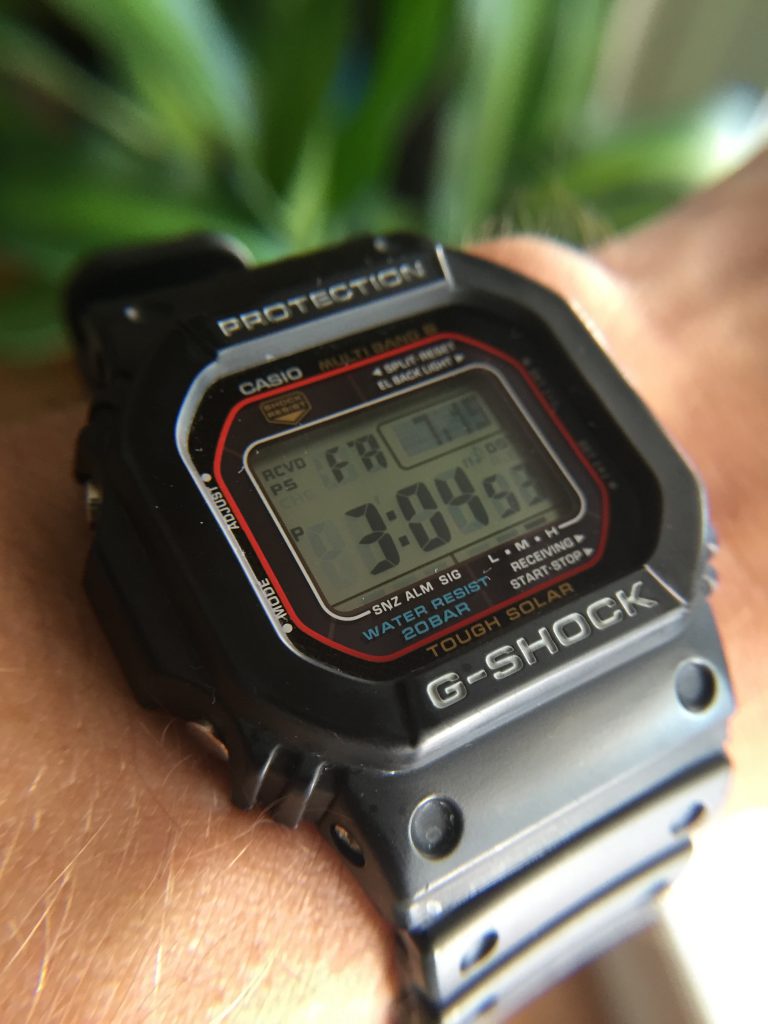 In terms of size, this is a relatively small watch. If you are used to the modern sport G-Shocks like the Mudman or the Rangeman, this watch is going to seem diminutive. For me, this is a perfect size for an everyday sports watch.
At 46.7mm x 12.7mm thick, it fits perfectly on the wrist and never feels heavy or in the way. The case itself is square, and the small LCD screen is surrounded by a thin ring of solar panels, which provide charge to the battery when exposed to natural and indoor light.
The watch face itself is covered in busy small print to indicate the various functions, which is typical on most Casio watches. The GWM5610 looks a bit different than the standard 5600, with a sporty red outline and slightly upgraded display for the date display portion of the screen. The square design itself is classic, and has remained largely unchanged since the 80's.
Features and Functionality
The 3159 module has all of the basic timekeeping functions you want in a digital watch. World time (29 time-zones), stop-watch, timer, 4 alarms, and 12/24 hour formats make this a fantastic travel companion. The atomic multi-band synchronization allows the watch to contact various radio towers across the world to synchronize with an atomic clock. I love this feature because it allows me to set my other mechanical watches with exact precision. Is it necessary? Not really, as the basic quartz module in this watch is accurate to +/- 15 seconds per month, but if you're an accuracy nut this is a great feature.
This particular model also has the "TOUGH SOLAR" designation, meaning that the battery is charged via solar panels around the LCD screen. There is something sublimely satisfying about having a watch that is completely powered by solar energy. At full charge, this watch would last for 10 months in a completely dark room. The battery itself probably won't last more than 10-15 years, giving it only a marginal advantage over the standard 5-10 year batteries. With that said, it's a bit of a fun feature, with some owners treating their watches like plants and keeping them stored in the windowsill to ensure that they are always at full capacity.
Of course, the watch is also waterproof, with video proof of the watches working perfectly at bone-crushing depths exceeding 200m.
The illuminator function lights up the entire screen with a nice green glow. There is also an "Auto EL" feature that detects wrist movement and automatically lights up the watch when you raise and turn it towards your face. This is a really cool feature, but can also put a bit of strain on the battery. Fortunately, it's smart enough to turn itself off when the battery is at medium or less.
Is the G-shock actually indestructible? Well, nothing quite is, but there are videos online of these watches being dropped 14-stories, being run over by 30-ton dump trucks, being boiled and frozen, and even impacted by a shotgun blast and surviving.
There are no other watches in the world that can stand up to such abuse, and given that your normal everyday activities will probably never approach such extremes, you can feel confident that this watch will last you for years, regardless of what you throw at it.
Conclusion
In a world of overpriced luxury watches and do-everything smart watches, there is something completely re-assuring about the G-Shock 5610. It's cheap, functional, and tough as anything out there. For a weekend or outdoor watch that needs to stand-up to a lot of abuse, it's tough to beat a G-Shock.
---
---
---
---