Introduction
---
In the pantheon of legendary dive watches, most enthusiasts are quick to point to the
Rolex Submariner
,
Omega Seamaster
or Blancpain Fifty-Fathoms as the most important milestones in the development of the modern dive watch.
No doubt these watches were incredibly important, contributing to the evolution of waterproof technology and pioneering most of the dive watch design language we still see today. But during that same time period, a lesser-known brand (at least in the U.S.) was quietly developing it's own version of a diving legend.
In 1967, a Swiss company called DOXA released it's iconic Sub 300 – an awkward looking piece designed for professional divers that was arguably one of the first ever true professional dive instruments for non-compression and military divers.
The DOXA Sub 300 was the result of a complete reimagining of what a recreational dive watch should be. The effort was Led by DOXA designer Urs Eschle in collaboration with Claude Wesley (a companion of Cousteau's) – whose singular emphasis on function over form became an obsession. The DOXA Sub eschewed traditional dive watch design elements for only the most important technical dive features.
One of the first true professional dive watches, it minimized aesthetics for the sake of supreme functionality, and in it's own way created something truly beautiful.
Traditionally black dials were emblazoned bright orange to maximize legibility, and hour hands (which had little use underwater), were "dwarfed" to make way for a prominent minute hand, surrounded by DOXA's signature squared-off markers. The outer timing bezel was augmented with a decompression table, a critical reference for deep-sea expeditions. And all of these changes were made to accomplish one thing – to make an incredibly capable and functional dive watch – even if it wasn't pretty.
And if that wasn't enough, DOXA spent time receiving feedback and doing real-world testing with Jacques Cousteau, the father of modern SCUBA diving and co-inventor of the Aqua-Lung. Cousteau, whose languidly narrated underwater adventure documentaries filled living rooms across America, unwittingly became one of the brand's most famous ambassadors.
Legend has it that Cousteau was so impressed with the performance of the Sub, he purchased exclusive rights from DOXA to distribute the watch with the U.S. Diver's Company, his legendary outfitter which provided equipment for much of the country's early amateur underwater explorers. Additionally, Cousteau himself, along with the entire Calypso dive team, were known to wear the DOXA Sub on their expeditions (along with the Submariners, Seamasters, and other lesser-known models such as the Aquastar Deepstar and Nivada Grenchen).
On the 50th anniversary of it's original release, DOXA has reissued the Sub 300 for modern dive watch fans to enjoy. Although no-doubt riding the popularity of vintage re-issues throughout the watch industry, the Doxa Sub 300 was welcomed to much acclaim and adoration from the watch press and enthusiasts alike – giving us a watch that will excite both vintage purists and everyday watch fans.
Let's take a closer look.
Thoughts on the Design
DOXA's re-issue of the legendary 300T is limited to only 900 pieces worldwide – split equally amongst the three color variants. The classic orange dial (known as the 'Professional'), the versatile black dial (known as the 'Sharkhunter'), and the classy silver dial (known as the 'Searambler').
All three versions are the same in terms of size and spec, with only the dial color to differentiate them. The 'Sharkhunter' seems to be the most versatile of the bunch, although it's hard to pass-up on the originality of the legendary orange-dial 'Professional', if you can pull it off. Although orange was once thought to be the most visible color at depth, it turns out that black is even more so. Still, outside of the Seiko Monster, you don't see many orange watches these days, and one could argue that DOXA is the first company that made orange watches an acceptable thing to wear on your wrist.
The design itself is nearly identical to the vintage 1967 original. You've got the same sweeping 42mm tonneau case that was so popular amongst dive watches of the late 60's and early 70's. You've also got the high-polish bezel and caseback, along with your choice of the iconic 'beads of rice' bracelet or durable rubber strap. The hands are near perfect recreations, with the square tipped seconds-hand and "dwarf" hour hand being featured prominently.
The case dimensions are nearly identical as well, with the newer version being slightly thicker than it's predecessor. The dial itself is relatively small by modern standards, but retains the vintage charm of the domed original. Because the dial itself it so much smaller than the outer diameter of the case, the watch itself wears much smaller than your modern 42mm dive watch. Still, the case itself is a solid chunk of steel and those looking for a significant wrist presence won't be disappointed.
A few minor differences can be noted here as well: the new bezel turns at 120 clicks instead of 60, the acrylic dial was replaced with a more durable "double-domed" sapphire (good luck trying to spot the difference), and the dial is luminous on the hands and markers. Although the original DOXA Sub eventually had a luminous dial (introduced in the 'T' version), it's initial release was completely dark.
Although it may irk some purists, I believe enough of the original design elements were retained without sacrificing the practical elements needed for an everyday watch. And let's be honest, most people wear these watches to the office, not to the bottom of the ocean, so erring on the side of practicality likely resonates better with your everyday consumer.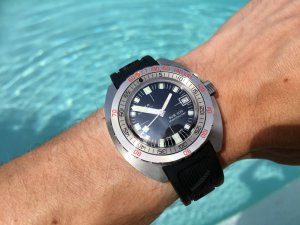 DOXA hasn't forgotten about it's original audience either. Although most modern divers would prefer to wear a dive-computer over a $3k automatic watch, this DOXA Sub 300T is fully equipped for the underwater adventurer. It's completely water resistant to obscene depths, has a wetsuit extension on the self-adjusting bracelet, and is equipped with a unidirectional 120-click timing bezel. If you're ready to risk your expensive watch underwater, it's willing and able.
One of my favorite "professional" features of the 300T Sub is the patented U.S. Navy non-decompression bezel. Fixed on the outer ring of the timing bezel, the non-decompression bezel provides diver's with a helpful reference to determine when they should begin their ascent to avoid getting painful and (potentially deadly) decompression sickness.
And from an aesthetic stand-point, it looks quite cool. The high-polished outer bezel with it's red colored inlays contrasts nicely with the brushed and demarcated inner-bezel, all encapsulated with DOXA's supremely grippy sawtooth bezel design.
I didn't receive the 'beads of rice' style bracelet for this review (and honestly, I'm not that much a fan of that style), but I did receive the black rubber bracelet to put through the paces. Rubber is obviously a great choice for a dive watch because of it's durability and imperviousness to minor nicks and scratches. This particular strap is well-made, although a bit busy with the words "SUB" and "DOXA" engraved in huge bold letters on the top and bottom respectively. The clasp also has the words "DOXA" engraved on it, just in case you forgot what brand of watch your are wearing.
It should be noted that even on the smallest setting, the rubber bracelet does not fit me. I have very small wrists at 6.5 inches, so those of you who are as similarly wrist-challenged as myself may want to consider the steel bracelet version (or just invest in a quality aftermarket strap or NATO).
A couple of other small design details I appreciated: the font used on the dial is an absolutely perfect vintage recreation. These dials could easily be confused with "new old-stock" out of DOXA's own vintage parts bin.
One nitpick on the design of the hands: it took me a minute to get used to the "dwarf" hour hand. On most watches, the hour hand is shorter than the minute hand, but usually visually bolder (or fatter). On this watch, it's the opposite, which makes a lot of sense when you're underwater but can be slightly confusing at first. I found myself mixing up the hour and minute hands in my brain on more than one occasion.
Inside the Watch
Similar to companies like Tudor, Doxa has a long history of incorporating ETA movements into it's watches. The Doxa 300 Sub is no exception to this – although we do get a bit of a treat here with an upgraded module. It's well-known that the workhorse ETA 2824-2, which is found in a huge range of watches from Hamilton to Tudor, is actually available in a few different grades (standard, elabore, top and chronometer).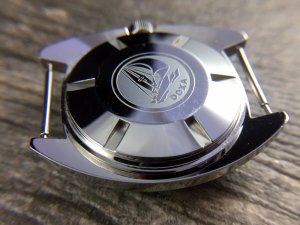 The ETA movement provided in the Doxa Sub 300T is the top-of-the-line Chronometer grade version, which is COSC certified and highly accurate (usually +/- 3 seconds per day). On top of it's incredible accuracy, the ubiquity of this movements design ensures that it will be serviceable by almost any technician for many years to come.
The movement itself is protected by a solid caseback (with a lovely engraving of the DOXA sailboat), but rest-assured that it is highly decorated and quite beautiful should you venture to remove the caseback one day.
Conclusion
Standing at the confluence of the vintage watch revival and recreational dive watch enthusiasts, it's hard to find any faults with the reissue of the DOXA Sub 300. If you're not into funky, early 70's design, or don't really care about the history of professional dive watches, I could see why many would find the Doxa Sub unappealing.
But for those true dive watch fans who geek out on iconic brands and models of historical importance, the DOXA Sub 300 likely deserves a spot in your collection just as much as an Omega Plofprof or a Blancpain Fifty Fathoms.
Of course, you could always drop similar coin on a original vintage version from the 60's, just don't expect it to be seaworthy. Luckily, the modern incarnation has enough vintage charm to make you forget you're wearing something that was manufactured in 2016, with enough durability to survive an underwater expedition or a dip in the backyard pool.
The DOXA Sub 300 is likely appeal to DOXA fans first and dive-watch fans second, yet at $2500 brand new, it's a highly competitive watch in this sector that has the same diving pedigree as watches that sell for twice as much from Rolex and Omega.
And I guarantee you'll never see a DOXA Sub in the board-room, but maybe it doesn't belong there, and in the age of the 'desk-diver' and 'weekend warrior', the DOXA Sub represents a unique value for a watch that is unabashedly 'tool', even if you do only wear it at your desk.
---
---
---