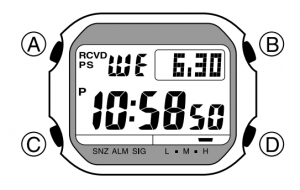 Casio G-shocks are fun and affordable digital watches that pack a surprising amount of useful features. World time, stopwatch, timer, tide-graph, and moon phase are just a few of the things an ordinary G-shock is capable of. What's even better, most G-Shock owners aren't even aware of some of their watches have hidden and secret capabilities.
In this article, we'll explore some of the lesser known Casio G-shock secret features along with some interesting diagnostic modes that can help you discover functionality and even find potential problems.
See also: Our Complete G-Shock "Master of G" Collector's Guide.
LCD Display Test
Just like a car's dashboard, most Casio G-Shock models have an LCD test that will illuminate every possible segment of the LCD display. This can help you determine if there is any damage to a particular display function that might prevent you from knowing if it's activated or not. This is also a neat way to see all of the hidden display features embedded in your watch.

---
To access LCD diagnostic mode:
In timekeeping mode, press buttons (A), (C) and (D) simultaneously
All segments of the LCD display will activate
Press (D) to cycle through display test modes
Last screen will show Casio module number
Press any button to return to normal
Tilt Sensor Test Screen
All Casio models with the auto-illumination feature use a basic tilt sensor to determine the position of the watch face. If you're having problems with your Auto-EL, you may have a faulty tilt sensor. Luckily, Casio engineers have built in a tilt-sensor diagnostic mode that you can use to diagnose potential problems.

---
To access the tilt-sensor diagnostic screen:
In timekeeping mode, press buttons (A), (B) and (C) simultaneously
The screen will display TLT
The display will show '8888' when the sensor is activated
Press any button to return to normal
Our 4 Favorite G-Shocks
Solar Panel Test
G-Shock models with the "tough solar" designation use special batteries and an array of small solar panels to stay charged. If you're having problems charging your watch even when it's exposed to direct sunlight, you may have damaged your solar panels. To test if your solar panels are functional, you can use the built in solar diagnostic mode.

---
To access the solar diagnostic screen:
In timekeeping mode, press buttons (A), (B) and (D) simultaneously
The screen will display SLR
The display will show '8888' when the solar cell is receiving light
Press any button to return to normal
If the battery is completely charged, the solar panels may not accept additional sunlight.
Power Saving Mode
Another great feature buried in the Casio G-Shock manual is the ability to automatically conserve power when not in use. The power-saving feature will automatically turn off the display after 60-70 minutes of inactivity. In this sleep mode, all other functions of the watch (including alarm and radio sync) remain active. After 6 or 7 days of inactivity, the watch will go into "deep sleep" mode which turns off auto-receive, beeps and tones, illumination, and display.

---
To turn on power saving mode:
In time-keeping mode, hold down button (A) until the city code starts to flash
Press (C) nine times until power settings screen appears (will display PS)
Press (D) to toggle on or off
Press (A) again to set and exit
Auto-Illuminator
This is probably one of the better-known hidden features of the Casio G-Shock, but still one that many people don't realize exists. Most G-Shocks with the backlight illumination feature actually have an "auto-illumination" mode, a nifty feature that automatically illuminates the watch when it is tilted towards your face 15 degrees. Although this feature is known to drain your battery faster, it's smart enough to disable itself if the watch falls below full charge. Additionally, the feature will only remain active for six hours before needing to be re-activated manually.

---
To turn on auto-illumination:
Hold down button (B) for 3 seconds
The wording "A. El" will appear on the dial if successful
Hold down button (B) for 3 seconds to manually disable, otherwise it will self-disable after 6 hours.
Unfortunately, not all Casio watches have access to these hidden or secret features. The only way to know if your watch can do the above is to test it yourself.
We hope you enjoyed this quick tutorial on accessing secret and hidden features inside your Casio G-shock, please post any secret or hidden functions we may have missed in the comments below!
---
---
---
This error message is only visible to WordPress admins
Error: No connected account.
Please go to the Instagram Feed settings page to connect an account.