What makes a great travel watch? Most would argue that classics like the Rolex GMT Master or Breitling Navitimer World are the best travel watches money can buy. And they might be right, these are absolutely stunning and iconic pieces that I would love to take with me on my next business trip.
But let's be practical, do you really want to hit the streets of Cambodia at night with an $8,000 Rolex?
For me, what makes a great travel watch is simple: it should be discreet, rugged, and give me the ability to switch between timezones easily.
I should be able to take it outdoors and not have to worry about destroying it. Drawing unwanted attention with something flashy and expensive should be minimized, especially if I'm traveling in a dangerous part of the world.
In this article I'll explore five of my favorite GMT enabled watches, both analog and digital.
An Aside on GMT/UTC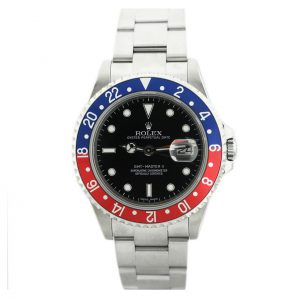 Rolex invented the GMT (Greenwich Mean Time) complication in 1954, when Pan American Airlines approached the company to develop a line of watches (known as the Rolex GMT Master ) for it's pilots.
Vital for it's role in international navigation – Greenwich Mean Time (GMT) refers to the mean solar time at the Royal Observatory in Greenwich, London – which cuts the earth in half with a longitude of zero degrees. Formally used as the international civil time standard, GMT has long since been replaced by coordinated universal time (UTC).
A GMT/UTC complication on a watch is genius in it's simplicity. A second hour hand is added to the dial that is geared twice as slow as the standard hour hand. This allows you to observe a separate timezone as the GMT hand tracks against a 24-hour bezel, eliminating any confusion between AM and PM in the process.
As you can see, not only is GMT/UTC an interesting concept, it's an imminently useful complication for your time-telling travel companion. Now let's look at some GMT watches.
Sinn 356 Sa UTC Flieger
| | | | |
| --- | --- | --- | --- |
| Size: | 38.5mm x 45.5mm x 20mm | Movement: | ETA Valjoux 7750 |
| Thickness: | 15mm | Special Features: | Date, GMT/UTC, Chronograph |
| Depth Rating: | 100m | Buy Online: | Buy Online ($1,990.00) |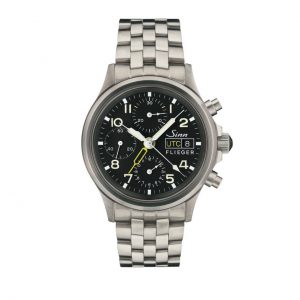 The Sinn 356 UTC embodies the minimalist style of a German pilot watch with the functionality of a chronograph and UTC complication. Similar to the standard Sinn 356 pilot, the 356 Sa swaps out the acrylic domed crystal with a more durable sapphire, and adds a bright yellow skeletonized UTC hand that can be hidden when not in use.
The satinized finish is durable and beautiful, and won't mind a little dirt and activity. It's on the smaller side at 38.5mm, so it won't be a ding magnet. The sapphire case back exposes the gorgeous Valjoux 7750 GMT movement, so you won't forget you're wearing an exceptional time-piece.
The Hamilton Khaki Navy UTC Auto
| | | | |
| --- | --- | --- | --- |
| Size: | 42mm x 22mm | Movement: | ETA 2893-2 |
| Thickness: | 12mm | Special Features: | UTC, Date |
| Depth Rating: | 300M | Buy Online: | Buy on Amazon ($1,350.00) |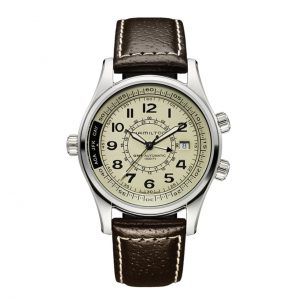 The Hamilton Khaki Navy UTC is a beautiful marine-styled watch that can track up to 24 time-zones. Although the city wheel is not directly connected to the GMT hand, it's a nice feature that adds to the charm of the display. The shortened GMT-hand is unobtrusive and tracks your second timezone along a 24 hour scale at the center of the watch.
As an added feature, this watch has a screw-down crown and 300M of water resistance, making it a perfect watch for your wetter destinations. Just don't forgot to swap out that leather strap.
The Glycine Airman
| | | | |
| --- | --- | --- | --- |
| Size: | 46mm x 24mm | Movement: | Swiss Automatic |
| Thickness: | 10.75mm | Special Features: | UTC, Date |
| Depth Rating: | 200M | Buy Online: | Buy on Amazon (n/a) |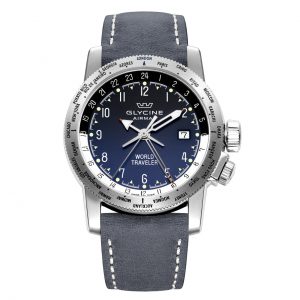 The Glycine Airman series debuted just a year after the Rolex GMT Master, although it was primarily marketed towards military personnel instead of civilians.
Popular amongst aviators during the Vietnam War in the 60's and 70's, the military aesthetic of the watch has essentially remained unchanged. Available in a huge array of configurations, the Airman series is one of the ultimate travel watches for fans of the vintage military pilot style.
If you want to take the vintage aesthetic to the limit, Glycine also makes a modern reproduction of the first Airman (called the Airman No. 1). It's a beautiful watch, but be warned that the 36mm case might look a little small to the modern eye.
MKII Key West
| | | | |
| --- | --- | --- | --- |
| Size: | 39.2mm x 48mm x 20mm | Movement: | ETA 2893-2 |
| Thickness: | 14.5mm | Special Features: | Doubled Domed Sapphire, GMT |
| Depth Rating: | 200M | Buy Online: | Buy Online ($1,395) |
If you want the classic look of the Rolex GMT Master without the exorbitant price tag, look no further than the MKII Key West (otherwise known as Project GMT). Built with a stainless steel bezel and utilizing the color scheme of the Pan-Am original, the Key West is a unique and high quality watch in it's own right. It also comes in a white-dialed combination, a nod to the incredibly rare Albino Rolex 6542.
Good luck getting a hold of one right now though, they are in very short supply with only a handful of plank owners having possession. Seeing as these owners waited awhile to receive theirs, it's not likely that they will be on the secondary market any time soon. MKII is currently accepting pre-orders for the second phase of production.
Casio G-Shock 5600
| | | | |
| --- | --- | --- | --- |
| Size: | 45mm x 24mm | Movement: | Japanese Quartz |
| Thickness: | 15mm | Special Features: | World Time, Alarm, Timer, Stopwatch |
| Depth Rating: | 200M | Buy Online: | Buy on Amazon ($42.15) |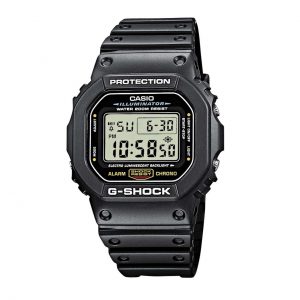 If I'm being honest with myself, the best travel watch on this list might be the humble Casio 5600. Why? It costs $40, it's indestructible, and can switch between all of the world's timezones with a touch of a button. It may not have the horological provenance of some of the other watches on this list, but it can do the job just as well for what amounts to pocket change in the watch world.
If you can live with the no-nonsense plastic square look, you might actually come to appreciate an iconic design that has been practically unchanged since 1982. If you want to spend a little bit more, I recommend you grab the 5610 instead for the upgraded solar battery and atomic sync (and read our review here).
---
---
---