Introduction
If you're a real watch geek, there is a pretty good chance you've got a chronograph or two in your collection. Not only do they look amazing, they pack a lot of useful features too. And if you're interested in engineering, the complexity of a mechanical chronograph module is truly awe-inspiring.
The German watch-making capital of Glashütte, a small-town of 7,000 people, is home to some of the most innovative and historically important watch-making companies of the 20th century. Known for their bullet proof components and austere design principals, the watches coming out of Germany should be very prominent on any tool-watch fan's radar.
Today we'll be exploring five of our favorite German Chronographs, from some well-known and lesser known German brands including: Sinn, Tutima, Junghans, Archimede, and Damasko.
Sinn 356
| | | | |
| --- | --- | --- | --- |
| Size: | 38.5mm x 46mm x 20mm | Movement: | Valjoux 7750/Sellita SW500 |
| Thickness: | 14mm | Special Features: | Chronograph, Screw-down Crown, Day/Date |
| Depth Rating: | 100M | Buy Online: | Buy Online (~$1,200) |
Sinn is a German brand known for it's stark brand of indestructible tool-watches. They produce an incredible array of high quality pieces, the majority of which fall into the diver, chronograph, or pilot category. One of our favorites is the Sinn 356, the brand's entry-level pilot chronograph. To me this watch represents the essence of the flieger-style mechanical chronograph, and it's compact size (35.8mm) and domed acrylic crystal really complete the vintage charm.
Older models are powered by the ubiquitous Valjoux 7750, while the newer models contain the Sellita SW500 (essentially a 7750 clone). You don't see a lot of chronographs with the day and date function, so this watch packs a ton of functionality into a small package.
For travelers: It's also worth checking out the Sinn 356 Sa Flieger UTC, which is the same watch with the addition of a useful GMT hand.
See Also: Hands-on Review: Sinn 556i
Junghans Meister Telemeter
| | | | |
| --- | --- | --- | --- |
| Size: | 40.8mm x 45mm x 21mm | Movement: | ETA 2892-2, assembly Dubois Depraz 2030 |
| Thickness: | 12.6mm | Special Features: | Chronograph, Telemeter, Tachymeter |
| Depth Rating: | 300M | Buy Online: | Buy on Amazon ($2,000.00) |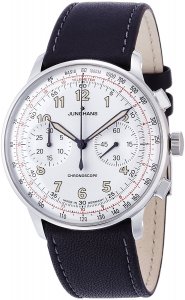 Nestled in the Black Forest of southwest-Germany, Junghans has quietly been producing high-quality time pieces for 150 years. The Meister Telemeter is a modern homage to one of Junghan's own vintage chronographs from the 1930's, and strikes the perfect balance between vintage and modern.
A unique feature of this chronograph is the presence of both a Telemeter and Tachymeter scale around the dial. The latter giving the wearer the ability to measure speed and the former an innovative tool for measuring distance. The case and dial are both produced in-house, and the the watch itself is powered by an ETA 2892 with a Dubois Depraz 2030 chronograph module.
The Meister Telemeter is available in three different dial / case combinations (white/steel, black/steel, and white/gold). For a more austere look, you should also check out the Junghan's Meister Pilot Chronoscope, their Flieger-style chronograph.
Archimede Pilot Chronograph
| | | | |
| --- | --- | --- | --- |
| Size: | 42mm x 51mm x 22mm | Movement: | ETA 7750 |
| Thickness: | 13.6mm | Special Features: | Chronograph, Date |
| Depth Rating: | 50M | Buy Online: | Buy Online (1,540 Euros) |
Archimede is one of the few German brands to produce the majority of their watch components in-house (barring the movement). Known for the incredibly high-quality ICKLER cases and dials, Archimede blends minimalist German design with extremely high quality components. On top of that, they are one of the more affordable German brands.
The pilot series is another take on the classic German flieger watches, this time offered up with a modern 42mm sized case. The oversized onion-crown and riveted leather strap play further into aviator-inspired history of this watch's inspirations. For those looking for something a bit simpler, Archimede also offers some classic 3-handed Flieger style watches without the chronograph functionality.
Damasko DC66
| | | | |
| --- | --- | --- | --- |
| Size: | 42mm x 48mm x 22mm | Movement: | Valjoux 7750 |
| Thickness: | 14mm | Special Features: | GMT Bezel, Ice-Hardened Steel |
| Depth Rating: | 100M | Buy Online: | Buy Online (2,000 Euros) |
A brand with similar values to Sinn, Damasko is a small family-owned German watchmaker focused on making no-nonsense tool-watches with the best materials available. One of these proprietary technologies is on display with the Damasko DC66, an ice-hardened nickel-free steel case that is much more durable than your run of the mill 316L.
Emphasizing legibility over frivolity, the DC66 is a classic pilot chronograph with the addition of a GMT bezel, allowing you to time longer events and even track multiple timezones.
If you're not a fan of the timing bezel on this one, the DC56 is a bezel-less version of the DC66.
Tutima M2
| | | | |
| --- | --- | --- | --- |
| Size: | 46mm x 48 mm x 22mm | Movement: | Cal. Tutima 521 |
| Thickness: | 15.5mm | Special Features: | Chronograph, Antimagnetic, AR Crystal |
| Depth Rating: | 300M | Buy Online: | Buy Online ($1,900) |
Tutima makes so many impressive military-style chronographs it's difficult to choose just one. The M2 is the modern production version of Tutima's long line of military chronographs, the official timepiece of the NATO forces in Europe since 1984.
Tutima as a brand has recently re-launched, and as part of that movement the company has moved to producing the majority of it's movements in-house. Of course, this move comes with a corresponding price increase, but vintage Tutima chronographs with more affordable ETA movements can still be found rather easily second-hand.
The M2 is available in a few different configurations, but I'm sort of partial to the versions with the internal bezel. This configuration looks a lot like the chronographs Tutima was producing in the 80's like the Ref. 798.
Just be warned, this watch is pretty huge (even by today's standards). With it's 47mm case and 16mm thickness, this thing is going to wear like a stainless-steel G-shock on the wrist. Luckily, the lack of lugs makes it wearable for smaller wrists, as long as you can handle the thickness.
See Also: Hands-on Review: Tutima Pacific 670
---
---