Introduction
In the wide world of tool watches, field watches don't really get the love they deserve. Sure, most of our adoration goes towards dive watches, chronographs, and pilot watches – but in a lot of ways, a simple three-handed field watch is the ultimate tool.
But what makes a great field watch?
I see a lot of watch blogs include chronographs, pilot watches, and other random three-handers in their "top 10" field watch lists and it doesn't make much sense. A field watch should live to tell the time (and maybe the date), and that's about it.
Some might find the design plain, but to me it's timeless. Many have GMT scales, and some have seconds sub-dials, but the essence of the field watch is a rugged, legible, three handed watch that does one job really well.
Field watches have been standard military issue since pocket watches made the transition to the wrist in WW1, and have evolved using a fairly standard military template: big arabic numerals, granular second demarcations around the edge, and a simple waterproof case. Movements are both quartz and mechanical, but have to be durable enough to stand up to a lot of rigorous use.
Many field watches on the market today are just imitations of the classics, but some are produced by the same companies that provide watches for real modern military forces. Many people settle on purchasing imitations without realizing they can purchase the real thing for not much more.
Today's article will explore our favorite modern field watches, both quartz and mechanical, from a variety of well-respected companies (with and without military contracts).
Budget Quartz: The Timex Expedition Scout
| | | | |
| --- | --- | --- | --- |
| Size: | 40mm x 47mm x 20mm | Movement: | Quartz |
| Thickness: | 11mm | Special Features: | Indiglo, NATO Strap |
| Depth Rating: | 50M | Buy Online: | Buy on Amazon ($41.92) |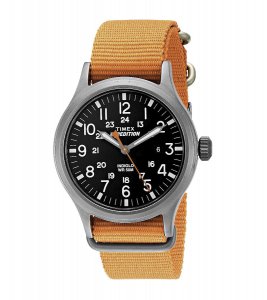 As far as cheap quartz field watches go, there isn't much competition for the Timex Expedition. With it's classic field watch looks and an innumerable amount of color choices, this watch makes a great choice for those of us on a strict budget.
Timex is one of the few cheap brands to get a nod from watch snobs, just don't expect this watch to last your lifetime. It is what it is for around $30, but makes a fun and disposable choice for those looking to test the waters.
Budget Mechanical: Seiko SNZG13
| | | | |
| --- | --- | --- | --- |
| Size: | 41mm x 49mm x 22mm | Movement: | Seiko 7S36 Automatic |
| Thickness: | 14mm | Special Features: | Day/Date |
| Depth Rating: | 100M | Buy Online: | Buy on Amazon ($152.00) |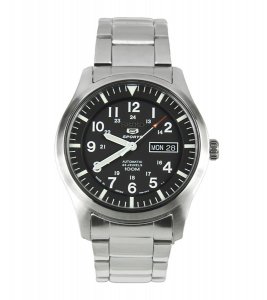 Seiko makes another strong entry in the budget mechanical market with the popular Seiko 5 SNZG13. Seiko doesn't have a history of producing field watches for military personnel, but they do have a history of producing high quality mechanical watches for much less than their Swiss competitors.
This watch features their dependable machine-made 7S36 Automatic, and the modern 41mm case is a bit larger than the classics for those who think field watches wear too small.
Mid-priced Mechanical: Hamilton Khaki Field
| | | | |
| --- | --- | --- | --- |
| Size: | 40mm x 48mm x 22mm | Movement: | ETA 2824-2 |
| Thickness: | 11mm | Special Features: | Date |
| Depth Rating: | 100M | Buy Online: | Buy on Amazon ($1,220.00) |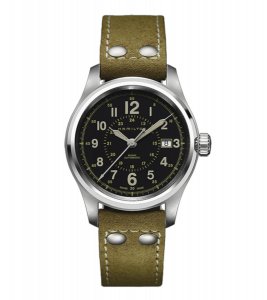 For value-oriented buyers looking for a high-quality piece, look no further than the Hamilton Khaki line of field watches. Although Hamilton doesn't have any current military contracts, it did product field watches for the United States during WWI and WWII. The current line of field watches includes an array of different sizes, in both automatic and hand-wind variants, and they look every bit the part of their vintage counterparts.
With a high-quality ETA Swiss movement inside, this is one of the best values in Swiss Made military field watches you can find.
See also: Hamilton Khaki Field Officer: Hands-On Review
Authentic Military: CWC G10 General Service Watch
| | | | |
| --- | --- | --- | --- |
| Size: | 38mm x 42mm x 18mm | Movement: | Quartz ETA 955.102 |
| Thickness: | 10mm | Special Features: | Domed Acrylic Crystal |
| Depth Rating: | 50M | Buy Online: | Buy Online (£160) |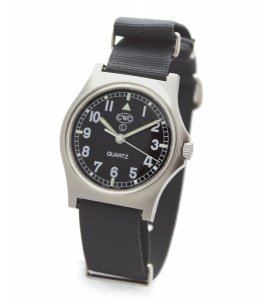 CWC (Cabot Watch Company) is a British group little-known outside of U.K military collector circles. Founded in 1972, CWC has been producing field watches for the the British Military for over 40 years. If you're looking for an authentic G10 watch, the quartz operated CWC G10 is an excellent choice.
With a domed acrylic glass and 16mm lug width, this is a watch that has stayed true to it's original military specifications, but may be a bit small for modern tastes.
Authentic Military: Marathon General Purpose Mechanical
| | | | |
| --- | --- | --- | --- |
| Size: | 35mm x 41mm x 16mm | Movement: | Swiss NH35 Automatic |
| Thickness: | 12.6mm | Special Features: | Tritium Gas Tubes, Fibershell Case |
| Depth Rating: | 50M | Buy Online: | Buy on Amazon ($360.00) |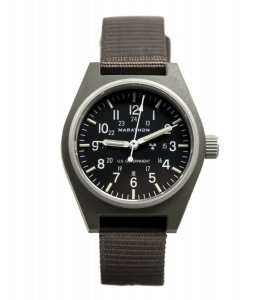 Marathon is another company that produces watches for US and Canadian Military forces. The GPM (or General Purpose Mechanical), is Marathon's rendition of the classic American Field Watch. Included in this package is a Japanese made Seiko NH35 movement and a case built to strict military specifications.
It's built with a lightweight "fibershell" case and uses radioactive tritium markers for illumination. Available in three colors (Green, Black and Khaki).
See Also: Brand Spotlight: An Introduction to Marathon Watches
Vintage Choices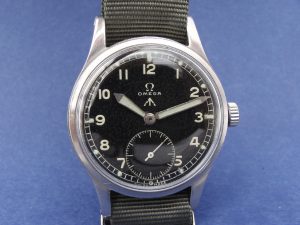 Another option for field watch enthusiasts is to purchase a vintage piece second-hand. Although these used watches can have mechanical problems (and may not be in great shape), it's tough to beat a field watch with a real military provenance. As a bonus, they can usually be found rather cheaply (for around $200 to $500 typically).
The most popular and common models would be the A17 and A11 field watches, made by a variety of companies including Waltham, Bulova, and Hamilton. These are the watches that almost all modern field watches are based on, and if you can snag one you're going to have a really special piece for your collection.
See Also: A Brief Guide to the Iconic Military Watches of World War II
Field watches are truly an under-appreciated yet essential part of every man's watch collection. They embody simplicity and their classic design will never go out of style. Whether you have an authentic military original or a cheap modern homage, chances are you will be smiling while you are wearing it. They are fantastic watches for hiking, doing yard-work, or just lounging around the house.
So, what are your favorite field watches? Let us know in the comments below.
---
---