If you're a fan of dive watches, having skinny wrists can feel like a curse. Most dive watches are massive chunks of steel; and with smaller watches being marketed towards women, it can seem like the whole industry is conspiring against us. What's a small-wristed dive-watch fan to do?
How Skinny is Skinny?
When people talk about small or skinny wrists, they are typically referring to wrists with a diameter of 6.5″ or less. The shape of your wrist can also have an effect on what you can comfortably wear, with flatter wrists being more accommodating to longer lug-to-lug heights.
The most important factor for how large a watch wears is the combination of the thickness (distance between case-back and center of crystal) and lug-to-lug width (the distance between the tips of the lugs across the watch). The diameter of the watch is important too, but keep in mind two watches with the same diameter can wear much differently depending on the length of the lugs.
Lug width (the width of the strap) can also have an impact on how large the watch feels on your wrist, so keep that in mind as well.
A basic rule of thumb is that the lugs of the watch should never overhang your wrist. Measure the area on the top, flattest part of your wrist, and use that to compare the lug-to-lug distance of the watch you're considering purchasing. If the lug-to-lug width is less than the top width of your wrist, you are typically in the clear.
I've got 6.5″ inch wrists with a 52mm width across the flat. I've found that my sweet spot is in the 38mm to 42mm bezel diameter range, with a lug-to-lug distance of less than 48mm and a lug width of 20mm. Your mileage may vary based on personal preference.
In my experience, being too large is the #1 reason people end up selling great watches. Make sure to know your size and measure before you attempt to buy.
Some Great Dive Watches to Consider
If you've got skinny wrists and want to enjoy dive watches: fear not, there are plenty of great options for those of us who are less endowed below the elbows. Below you'll find five of our selections for great dive watches for those with wrists smaller than 6.5″, from $150 to $2500.
Seiko SKX013
| | | | |
| --- | --- | --- | --- |
| Size: | 36mm x 48mm x 20mm | Movement: | Seiko 7S26 |
| Thickness: | 13mm | Special Features: | Diving Bezel, Day/Date |
| Depth Rating: | 200M | Buy Online: | Buy on Amazon ($335.00) |
We'll start with a great entry-level dive watch from Seiko, the SKX013. Sharing the same DNA and lineage as it's big brother, the SKX007, the SKX013 is a great looking ISO rated dive watch with the same style and durable 7S26 movement.
This watch weighs in at 38mm in diameter with a 20mm lug width, although it's roughly the same thickness as the SKX007. This watch is perfect for those looking for the classic Seiko SKX look without the bulk and size.
Marathon TSAR Midsize
| | | | |
| --- | --- | --- | --- |
| Size: | 36mm x 44mm x 18mm | Movement: | Swiss Quartz |
| Thickness: | 12mm | Special Features: | Diving Bezel, Tritium Lume |
| Depth Rating: | 300M | Buy Online: | Buy Online ($830) |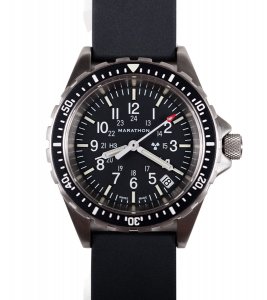 Marathon makes tough-as-nails military-spec dive watches, and the mini-TSAR is no exception. Billed as a search and rescue watch, the midsize TSAR is available in both quartz and automatic. It's got luminous tritium tubes on the dial (hence the radioactive symbol), and is delivered on a 20mm vulcanized rubber strap.
With a swiss-made Sellita SW200 movement inside, this is probably one of the toughest swiss-made watches you can buy.
At $830 dollars, it's positioned as a relative value for an indestructible tool watch with genuine Swiss parts.
Tutima Pacific 670
| | | | |
| --- | --- | --- | --- |
| Size: | 40mm x 42mm x 20mm | Movement: | Swiss Quartz |
| Thickness: | 11mm | Special Features: | Diving Bezel, Day/Date |
| Depth Rating: | 200M | Buy Online: | Buy Online (~$600) |
The Tutima Pacific is a relatively lesser-known German diver with an extremely slim profile. At 11mm thickness, it's one the slimmest dive watches we've ever come across. Coupled with the squared lug-less case, this is truly compact dive watch that can be worn on any small wrist.
Unfortunately, the 40mm version of this watch is getting extremely difficult to find. It was long ago replaced by the Pacific 677, which is a very similar design at a larger 43mm.
If you're looking to acquire one, your best bet is to set an alert on WatchPatrol and wait for it to come up on an enthusiast forum. It can be had for around $600-$700.
Christopher Ward C60 Trident Pro
| | | | |
| --- | --- | --- | --- |
| Size: | 38mm x 45.5mm x 20mm | Movement: | ETA 2824-2/Sellita SW200-1 |
| Thickness: | 13.3mm | Special Features: | Diving Bezel, Date |
| Depth Rating: | 200M | Buy Online: | Buy Online (~$1,000) |
Christoper Ward has finally released an array of smaller 38mm dive watches in the Trident Pro line-up. Available in 5 different color and case combinations, the Christopher Ward Trident Pro is truly a stunning piece. Although the wave dial is clearly a nod to the Omega Seamaster 2254, there is enough original design language here to keep it out of homage territory.
For less than $1000, the Trident Pro is a very competitive offering in the arena of Swiss boutique dive watches.
Buy from Christopher Ward Direct
Omega Seamaster 2252
| | | | |
| --- | --- | --- | --- |
| Size: | 36mm x 47mm x 20mm | Movement: | ETA 2824-2/Sellita SW200-1 |
| Thickness: | 11.7mm | Special Features: | Diving Bezel, Date |
| Depth Rating: | 200M | Buy Online: | Buy Online (~$2,000) |
The Omega Seamaster is one of the most iconic dive watch designs ever made. The 2252.50 (36mm) is the miniaturized version of the extremely popular 2254.50 (41.5mm), a reference that is no longer in production. This version may be my favorite iteration of all the Seamasters that have been issued, next to the original Seamaster 300. There's something about the scalloped bezel, broad sword hands and dynamic wave dial that make this a timeless piece. I think both versions look great on skinny wrists.
This is another watch that you'll have to spend time hunting for online, but the search is half of the fun. Expect to pay $2,000+ for a used piece in excellent condition.
In Conclusion
The truth is, you can wear any size watch you feel comfortable wearing. We believe the large watch trend is just a modern fad, and as evidenced by some of the great smaller watches now available, will begin to swing back to more moderate proportions. There are watches with very similar specs that can wear completely differently, and ultimately you'd have to try them on to know for sure.
Watch size is a matter of personal preference, and if you've got skinny wrists like me, there are probably a lot of great watches you've wanted to buy but have otherwise passed on. Luckily, there are a huge variety of great smaller watches available too. We hope the above list helps you find something that fits perfectly.
If you're a watch lover with skinny wrists, we'd love to hear from you in the comments to see what watches work best for you.
---
---
---