Introduction
AVI-8 is a watch brand out of England that produces military-inspired automatic watches that are manufactured in Hong Kong. They don't have a storied romantic history producing watches for elite attack squadrons around the globe, nor do they have a catalog of iconic watches to draw inspiration from.
But they don't pretend to be an iconic brand either, and their range of affordable and unique flight-inspired designs are a refreshing departure from the straight-up homages (read: copies) found in many of the modern military-inspired watch manufacturers.
AVI-8 is a brand that comes with a bit of baggage in the WIS community, however. Featured prominently at various online fashion boutiques and TV shopping networks (often at a heavy discount), it's easy to lump them into the herd of fashion brands you find lining the tables of your local T.J. Maxx. It doesn't help that many of the models share Chinese catalog components with other brands too.
But for all the love we heap on the popular microbrands like Halios and Autodromo, there isn't really much of a material difference (except for the price). For brands producing automatic watches for less than $200, offshore Asian manufacturing and modular assembly is a necessity. And the Japanese movements used in these watches are roughly the same as you'd find in a $650 pilot watch from MKII, like the Hawkinge (which features the unbranded Seiko NE15). If you're into the fashion-forward designs that AVI-8 produces, you can get a tremendous value here.
Today I'm reviewing the AVI-8 Centenary AV-4059, one model from a collection of four meant to celebrate the 100th anniversary of the British Royal Air Force.
Thoughts on the Design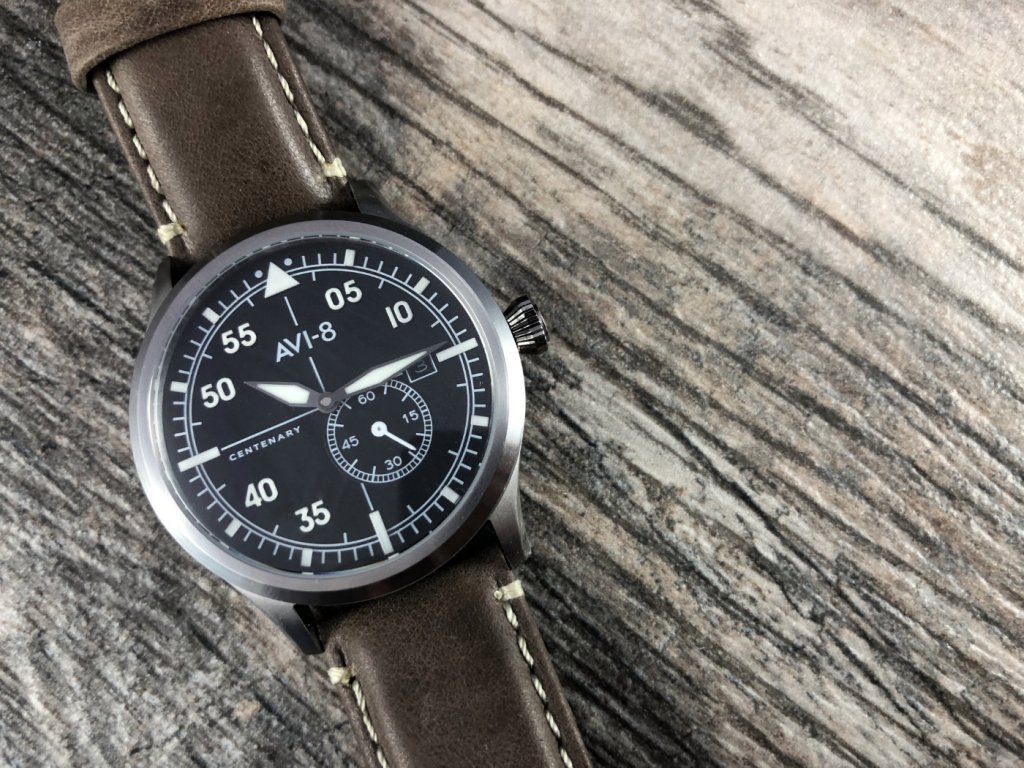 The "Centenary" series of AVI-8 watches is meant to commemorate several eras of British pilot watch history, from the 1920's to the 1980's. Although four models will be released this year, only two (the 1920's and 1940's version) are currently available for purchase.
I wouldn't consider the design to be an homage to any vintage watch in particular, but instead of mish-mash of pilot watch styles from various countries during the WW2 period. It appears to be influenced more by the design of the German B-Uhr (see the sword hands and minute markers) than any British Royal Air Force watch, although the sub-second dial is clearly inspired by the British WWW RAF watch. This is not necessarily a bad thing, although I suspect the design will appeal more to the fashion-minded consumer than the military watch enthusiast.
The design of this watch, although fairly utilitarian, is much bolder than your average vintage military time-piece. The dial features an interesting matte texture, and indices and markers are slightly raised which gives the entire dial an interesting three dimensional effect. The domed sapphire is shaped like a lens, which makes the dial bulge and refract in interesting ways as the watch changes angles. I actually love the effect, even though the lack of anti-reflective coating on the crystal makes glare an issue. As a fan of stark, utilitarian military designs, I would say this watch is borderline "over-designed", but definitely has a unique appeal.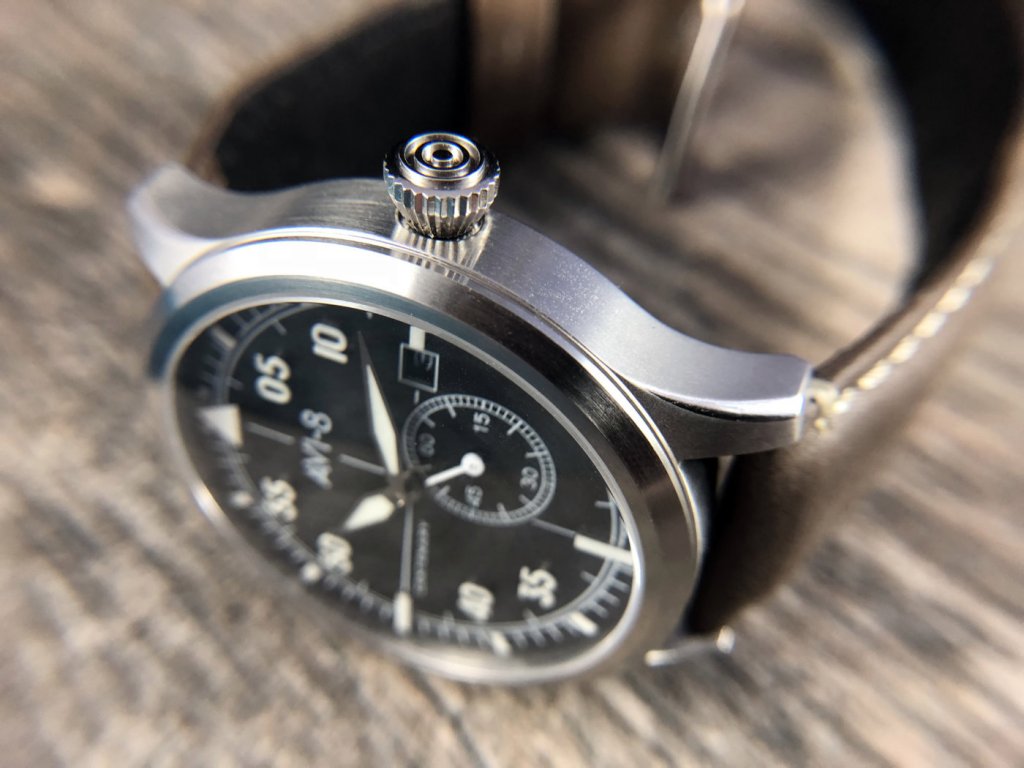 The 43mm barrel-case is fairly standard, if not a bit large, sharing it's proportions with other AVI-8 watches from the Flyboy series. Even though the case thickness is listed at 12mm, it feels much taller. Featuring mostly brushed stainless steel surfaces throughout, the lugs feature a polished edge reminiscent of the case used for many Omega Speedmaster and Seamaster models. I usually don't wear watches over 42mm, but this one actually fits my 6.5" inch fairly well. There is no lug overhang, and in terms of large watches, this is one I feel smaller wrists can actually pull off.
The caseback features a sapphire window exposing the Japanese-made Miyota 8218 beating inside. The rotor is customized by AVI-8, featuring a small bit of "Flyboy" branding and an engraved target with some alternating finishes. For a cheap movement, I have to say that it is actually very nice to look at. It shares a similar finish level to some entry level ETA movements, and compared to a bog-standard unmodified Seiko NH35, the finishing looks downright luxurious.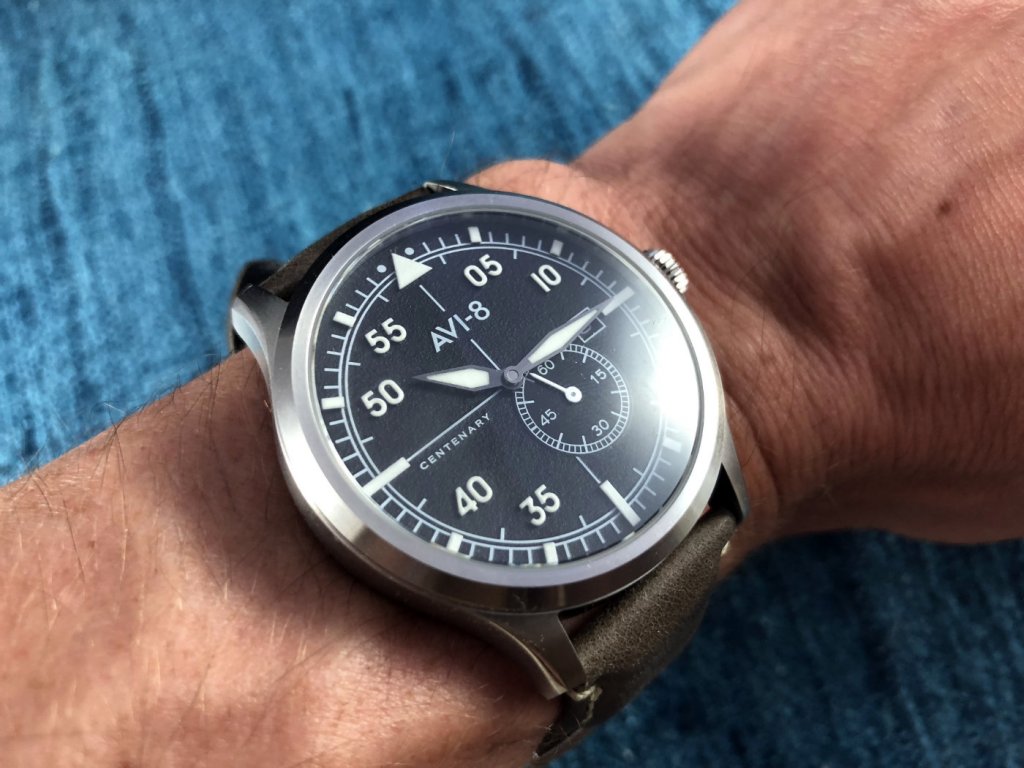 The oversized onion crown is very easy to operate, and feels solid when winding and setting the time. The end of the crown has an engraved bullseye, which matches the branding on the rotor. It doesn't screw-down, and lacks a rubber gasket at the point of contact, so even though the watch is rated for 50m, I wouldn't necessarily feel comfortable taking it underwater.
The strap is surprising high quality, made from genuine Buffalo-hide leather and featuring white contrast stitching around the edges. The AV-4059 comes in three different dial colors, each with a different strap color as well to compliment the dial. This one is particular is especially vintage-looking, featuring a distressed taupe finish with a black backing. The black dial is the most classic looking, but for those looking for something a bit unique it can also be acquired with a Navy or Cream dial.
Lume is excellent. The indicators and numerals around the outside track glow green when exposed to light, and the duration of the glow is comparible to many other Luminova painted dials. It's worth noting that the subsecond hand doesn't glow, and there aren't any minute marking on the bottom right quadrant of the watch, although it likely won't impact your ability to read the time in the dark.
Overall, I'm actually quite impressed with the quality of this piece. It feels solid, has a great presence on the wrist, and has a three-dimensionality that makes it a joy to look at from different angles. For those that might be bored with your standard flat, sterile, pilot's watch, this type of design is likely to hold a lot of interest.
Inside the Watch
Inside the watch beats the Japanese-made 21-jewel Miyota 8218. It's a perfectly capable and reliable movement, although it won't win any awards for outstanding Swiss precision. Miyota is owned by the Citizen group, and you can find this ubiquitous movement in many microbrand and Kickstarter watches across the web.
With Swatch group limiting the distribution of ETA movements (and increasing their prices), it makes sense for affordable brands to begin utilizing the much chaper Asian produced modules. In terms of reliability and accuracy, they are close to the quality standards set by entry-level movements like the ETA-2824. If you're a Swiss-only movement snob, this one may not do it for you, but for an entry level Automatic it's a great little module.
It's non-hacking, which is a bummer if you're an accuracy freak, but that won't matter anyway because this unregulated movement runs at +/- 20 to 40 seconds per day. If you're looking for COSC precision you won't find it here, but this watch also doesn't cost $2500, and as a matter of practicality, it's fine for everyday use. With hand-winding and a 40 hour power reserve, it does the job quite well.
Conclusion
The AVI-8 Centenary is a great value for the fashion-oriented buyer looking for an affordable automatic timepiece with an aviation inspired design. Although the brand isn't necessarily an enthusiast brand, it is an accessible one, and their dedication to using inspiration from military history makes them a step above your average mall brand.
For those looking for a more historically faithful military pilot watch from the same period, there are plenty of other options to choose from, like the aforementioned MKII Hawkinge or the Stowa Nav B-Uhr. But those options are also much pricier too, and for collectors who are just starting out in the hobby, the well-priced AVI-8 Centenary may well be a superior option.
Use discount code CK20 to get 20% off any full-price item at https://avi-8.co.uk/.
---
---
---